AEW's Chris Jericho Is Open To A Mike Tyson Boxing Match
Jericho is more than happy to come to blows with "Iron" Mike Tyson on AEW programming.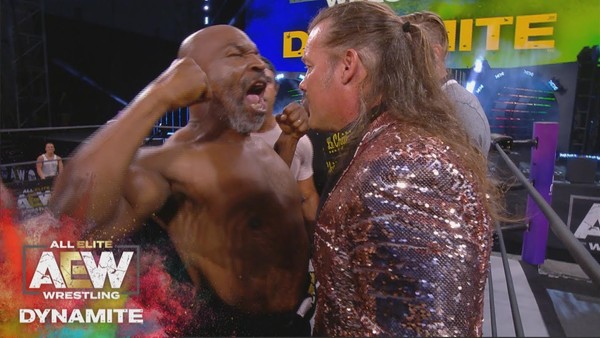 Speaking recently on his Talk is Jericho podcast, Chris Jericho revealed he's happy to take Mike Tyson on in a boxing match.
The former boxing Heavyweight Champion of the World notably appeared on AEW programming earlier this year, squaring up to "Le Champion" on Dynamite - after struggling to tear his t-shirt off for a little too long. This led to many fans assuming that the pair would be involved in a feud together going forward, but as of this moment, nothing has materialised.
Jericho has now revealed, during his TIJ interview with MLW owner Court Bauer, that he was asked what he'd like to do with Tyson around that time and suggested a boxing match would be an interesting way to go. In his own words:
"Earlier this year, when we had the little confrontation with Tyson, which may or may not still happen. Who knows really, but they said, 'Mike really wants to do something. What would you be up to?' I said, 'Whatever. Let's do a match.' You want to do a boxing match? I'll box Mike Tyson. How bad can I get beat up by Mike Tyson that's worse than taking stiff shots from all these guys that I've been beaten up by over the years?"
Jericho then went on to reiterate how much he didn't care about being legitimately hit, before referencing how Big Show felt about being thumped in the face by another boxing legend in Floyd Mayweather:
"You can hit me and I'm fine. I'll be fine, and I remember when Big Show had that with Floyd Mayweather. He told me Mayweather hit him and Mayweather broke his nose. And Show was like, 'I've had my nose broken by less.'"
With Tyson deep into preparations for his 28 November exhibition fight with Roy Jones Jr, it's unlikely the iconic fighter will make his presence known on Dynamite again in the near future. But, as Jericho noted, a programme between the two still seems to be up in the air, so perhaps a "Demo God" vs. "Iron" Mike blockbuster could be on the cards in 2021?
Create Content and Get Paid
---