AEW's Don Callis Assaulted By Fan At AAA Triplemania XXXI Tijuana
The AEW man was attacked after Triplemania XXXI.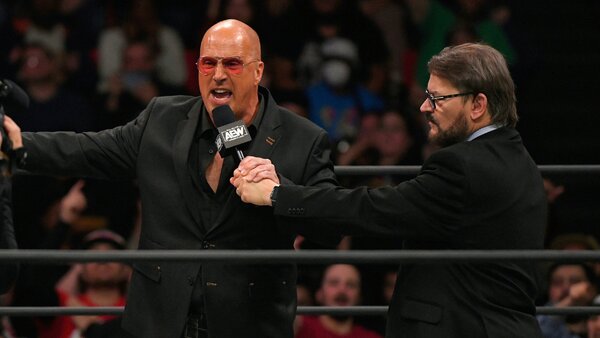 In some shocking news, AEW's Don Callis was attacked by a fan at last night's AAA Triplemania XXXI Tijuana.
Via Bryan Alvarez of the Wrestling Observer, Callis was assaulted during the post-Triplemania press conference. Alvarez stresses that this was not a work, and that Don is on his way to San Diego to seek medical attention.
Callis was at Triplemania XXXI to further the build for this coming Wednesday's Blood & Guts match. With Kenny Omega going up against AAA Mega Champion El Hijo del Vikingo at last night's show, Don came to the ring prior to the main event, with him stating he was going to be in Vikingo's corner. That was put to a halt by Konnan, who sent Callis to the back.
From there, Callis confronted Omega during the post-show press conference, which led to Konosuke Takeshita attacking the Best Bout Machine. As that brawl was being broken up, though, that's when a fan legitimately jumped Don from behind.
As Alvarez noted:
"Everything was an angle up to that point, but then a fan who was apparently upset about what Don had said to Kenny jumped Don from behind, ripped his suit, concussed his eardrum and busted open his mouth while he was trying to choke out Don from behind. Don was screaming profanities at the fan before he was pulled off, and was said to be livid afterwards."
It was also added how Callis had injured his ankle and neck during this attack. The last update on the matter was that the AEW man was on his way to San Diego to medical assistance.