AEW's Eddie Kingston DESTROYS MJF: "I Don't Know Why He's World Champion"
Eddie Kingston blasts AEW World Champion MJF in searing new interview.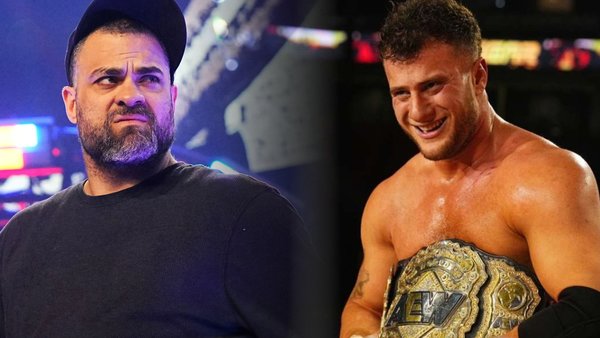 Eddie Kingston has no time for MJF - and doesn't know why the 26-year-old is AEW World Champion.
Speaking on WTF with Marc Maron, Kingston called Maxwell Jacob Friedman "a real piece of sh*t", adding that MJF would likely "cry about" his comments to company chief Tony Khan.
Said Eddie (h/t Fightful):-
"He's a real piece of sh*t. I'm just going to put that out there. I don't know why he's the champion. He'll cry about it to Tony (Khan), then I'll get an email from Megha (Parekh) and HR, 'you can't be calling our world champion a piece of s**t.' Well, if he doesn't act like a piece of s**t, I won't call him that."
Maron pointed out that being that "real piece of sh*t" is part of MJF's wrestling character. Eddie continued, painting MJF as a "know-it-all":-
"Not backstage to the boys. He's a low life. He's a young kid who thinks he knows it all and he doesn't. F*ck em. I don't give a shi*. What are they gonna do, fire me? Okay. I'll work somewhere and make money."
When the podcast quotes started doing the rounds, Kingston tweeted:-
Well I guess the podcast deal came out and it is news now that I don't like our worlds champion. We'll folks he ain't the only one I don't like. It's simple if you are not a good person in my eyes (important "in my eyes") then go f**k yourself. (Edit so @AEW can retweet it. 👋

— Eddie Kingston #BlackLivesMatter (@MadKing1981) February 7, 2023
Then followed up by listing the one person he actually likes in AEW:-
Let me list the people I do like#1 Mox https://t.co/N0Rp5VEDsc

— Eddie Kingston #BlackLivesMatter (@MadKing1981) February 7, 2023
In response, MJF called Kingston a "fake tough guy":-
Fake tough guy. https://t.co/MIZFgx1W9W

— Maxwell Jacob Friedman™️ (@The_MJF) February 7, 2023
Kingston and MJF are yet to share a ring in AEW. If this situation isn't already a work, the nature of professional wrestling means it is reasonable to expect it to eventually become one.