AJ Styles Set For Shock WWE Gimmick Change?!
WWE officials are reportedly interesting in tweaking AJ Styles' character.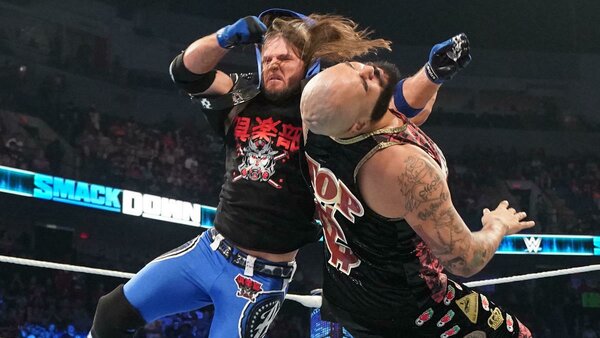 Better Wrestling Experience claims that WWE officials are currently weighing up some subtle changes to AJ Styles' on-screen presentation over the next few months.
It's believed AJ will start working a "more aggressive and determined" persona on TV. That may have started on this past Friday night's episode of SmackDown - Styles hammered Hit Row's Top Dolla following a tag-team win over the group for his OC stablemates.
Booking AJ vs. Dolla would certainly be a...choice in the eyes of most fans, especially when Styles was recently in the chat for that new World Heavyweight Championship. His match vs. Seth Rollins was critically lauded at Night Of Champions in Saudi Arabia, but Seth grabbed the gold so AJ must move on to other things.
Becoming "more aggressive" would be a departure from the more lighthearted, jokey veteran character Styles had been portraying on episodes of Raw pre-2023 Draft. Perhaps losing the chance to become World Champ has p*ssed AJ off in storyline and caused him to get "determined".
Look out for these changes to his presentation and overall character in coming weeks on Friday nights.