Alan Angels' AEW Contract Expires, '5' Rejects Per Appearance Deal
Dark Order man sheds light on All Elite Wrestling departure.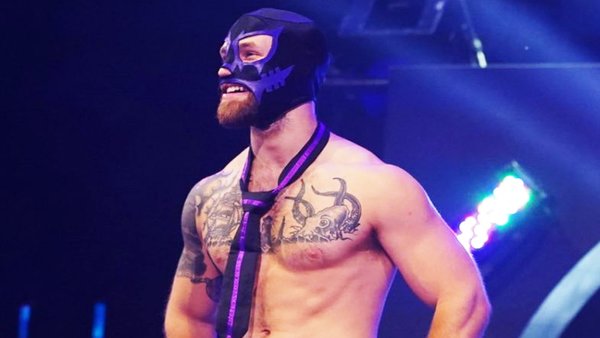 Alan '5' Angels has confirmed that he is, indeed, finished with All Elite Wrestling, clarifying the situation in a new interview with Fightful after days of speculation on his status.
Speaking with Sean Ross Sapp, Angels revealed that he will technically become a free agent on 1 July after being told that the company wouldn't be renewing his expiring contract. The 24-year-old also stated that he had turned down AEW's offer of a per appearance deal, saying that he feels the independent scene would be a better place for him to grow his stock at the moment (via Fightful Select):-
"My contract, I was told about a month and a half ago, that they are not going to re-sign me. They did offer me a per-appearance, which I decided not to take, just solely based off what I thought was best for me. I feel there is more room to grow outside of AEW, right now, at this point in my career. It's nothing against AEW or Tony Khan or any of the higher-ups in the business. It's a personal thing. I feel, me going on the Indies and showing people what I can really do and showing people that I am a good f*cking wrestler, I feel that will raise my stock."
Elaborating, Angels said that in AEW, he has the perception of being the Dark Order's "bottom guy." While he doesn't think it'd be impossible to change that in the Tony Khan-helmed promotion, it'd be harder work. This, coupled with his desire to embark upon a truly great independent run, contributed to the situation, though he isn't ruling out going back to AEW someday:-.
"Not saying it's impossible to do that in AEW, but I guess the perception, how fans perceive Alan Angels, is, I'm the bottom guy in Dark Order and I feel I can change that outside of AEW. It's possible in AEW, but I feel it would take longer. On top of that, I never got to have a great Indie career. I was on the Indies for three years, got lucky, and got scooped up. As a wrestling fan, being an Indie wrestler and doing cool ass Indie shows, that's a thing I want to do. There are plenty of places to make money in pro wrestling right now. That's not to say that I won't be back in AEW, maybe I will, I don't know, but that's pretty much it. They offered me something, I felt it was better for me not to. That's all it was,"
Speculation on Angels' AEW future came from the following tweet and removal of references to the promotion in his Twitter bio:-
Excited for what's next

— Alan Angels (@Alan_V_Angels) June 28, 2022
'5' told Fightful that while he didn't mean for the tweet to generate the level of attention it received, he enjoyed sitting back and "stirring the pot":-
"I put out the tweet, I didn't really mean to put it out as a teaser or whatever. I didn't expect everybody to freak out about it. It was literally just a normal tweet, at first. Then I saw some people speculating some stuff and I was like, 'You know what, my contract is up in a few days, I'm just going to run with it.' Then I turned my profile picture black, took the AEW out of my bio, and really just stirred the pot because I love watching people freak out on social media. People were hitting me up, asking if I was okay. Yeah, I'm fine, I just like watching people freak out on the internet."
Angels debuted with AEW in April 2020, doing so via a squash loss to Lance Archer. He was inducted as a Dark Order member within a month of joining the promotion and stayed with the group until the end.
Fightful's full interview with Alan '5' Angels is due to go out later today.
Create Content and Get Paid
---