Alexa Bliss Explains Why She Agreed To WWE Body Shaming Angle
Bliss says it's too important not to do right.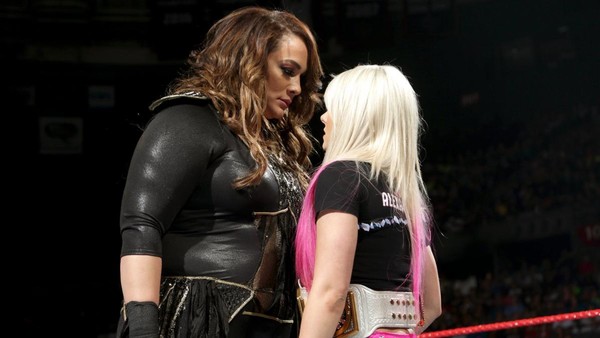 To many fans, the Alexa Bliss feud with Nia Jax felt often uncomfortable, over the line and unnecessary. After all, it was based on relentless weeks of body shaming from Bliss towards Jax. But, if you ask Bliss, she'll tell you everything uncomfortable was absolutely necessary.
Both Bliss and Jax — once great friends in real life — have publicly discussed past issues with body shaming. Bliss overcame struggles with anorexia and Jax has been very public about body shaming existing her whole life, including in her own backyard. At WrestleMania 34 this past April, their body-shaming feud culminated in a match that was all about the bully versus the victim. The victim became the hero and Bliss discussed how important it was to make this feud mean something.
As she explained on The Cheap Heat podcast:
"I have lived through it. To be able to make this story as real as possible you have to commit to it. I remember speaking to Nia Jax before WrestleMania. We both wanted to make this story mean something because we both have had our body issues and we both have had this idea of wanting to portray body images to people. The thing is you have to commit to that and that is why I was able to get Alexa Bliss's character into this deeper level where people say that I am rude.
Bliss explained she obviously doesn't really feel this way about bullying or body shaming and her willingness to take part was because "the good guy will prevail". To Bliss, her role is as an ambassador for WWE, sending empowering messages to the WWE Universe is a role she's much more comfortable with.
Create Content and Get Paid
---