Alexa Bliss' WWE Future Dependent On Merch Sales?
WWE are monitoring SummerSlam merchandise sales for Alexa Bliss and Lilly very carefully.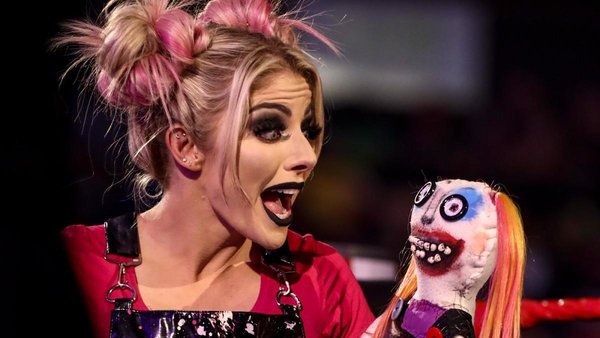 WWE could pull Lilly from Alexa Bliss' side following SummerSlam.
Andrew Zarian of the Mat Men Podcast has tweeted that the company plans to abandon the doll gimmick if Lilly doesn't pull in significant merchandise sales this weekend. That, Zarian's sources told him, could totally change Alexa's future on Raw going forwards.
Lilly was introduced as a "childhood friend" of Bliss' right after WrestleMania 37. Since then, Alexa has bounced off the doll in promos and used her during feuds with Shayna Baszler and Eva Marie - Marie's sidekick, Doudrop, has even started to see Lilly wink and pull other facial expressions.
This might be leading to some sort of possession angle come SummerSlam. Or, if plush versions of the Lilly doll and other Lilly-related t-shirts don't sell, WWE may abandon the gimmick completely and move Alexa in a different direction.
WWE Shop just dropped a few new shirts with Lilly's image splashed all over them. It's understood the promotion wants to gauge interest in the spin-off character before making a firm decision. So, basically, if you like Lilly then you better start gobbling up that merch!
Create Content and Get Paid
---