Are WWE ALREADY Burying Daniel Bryan For His Crown Jewel Stance?
Bryan tapped out to AJ Styles on SmackDown... has punishment booking kicked in?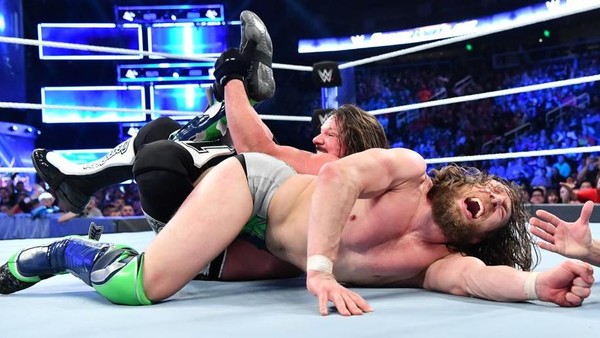 Daniel Bryan's refusal to compete at WWE's latest Saudi Arabian pay-per-view, Crown Jewel (2 November), left the company with a major problem to address, but they handled it well on this week's SmackDown.
The event's advertised WWE Championship match between Bryan and AJ Styles was brought forward to Tuesday night, with Samoa Joe substituted in as the pay-per-view challenger. It was effective, got over, and resulted in a riveting TV battle between two of the best wrestlers in the promotion.
Its conclusion saw Bryan tap out to the champion's Calf Crusher, after AJ had worked the knee throughout. Sadly, as is often the case with high-profile submissions, this led to suggestions that Daniel was already being buried for his Saudi stance, but this apparently isn't the case.
Per Bryan Alvarez on Wrestling Observer Live, this was the finish WWE had planned for Crown Jewel all along, so they were merely fast-forwarding to an inevitable conclusion rather than punishing Daniel. It does, however, mean Bryan will probably be out of the title hunt for the rest of the year.
This isn't to say the former General Manager won't face punishment for defying his employers, but it didn't happen on SmackDown.