Asuka Loses Tooth After Brutal Kick On WWE Raw
A rough night for Asuka, as a tooth flies from her mouth while wrestling Jax & Baszler on WWE Raw.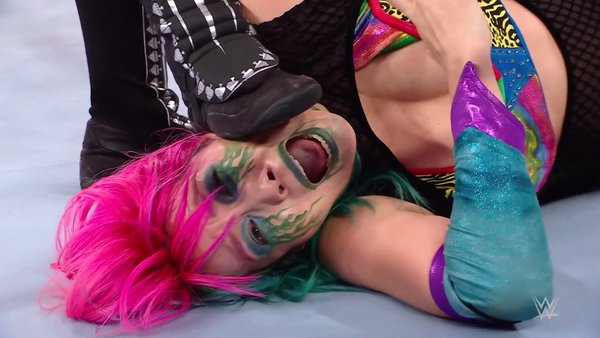 Asuka appeared to lose at least one tooth while teaming with Charlotte Flair to face Nia Jax and Shayna Baszler on last night's episode of WWE Raw.
This went down while the grounded Raw Women's Champion had Jax locked in an armbar. Baszler came across the ring and kicked the Japanese star in the mouth, making a far stiffer connection than perhaps she'd intended. Shayna immediately hit the deck, visibly checking on her opponent before continuing with the match as planned.
Reddit user u/FuzzyWuzzyMooMoo has uploaded a gif of the kick. It's pretty ugly, so click at your own discretion.
Jax and Baszler ended up winning the match when Flair accidentally booted Asuka instead of her opponents, leading to Shayna throwing Charlotte out of the ring and Nia scoring the pin after hitting a leg drop on Asuka. Asuka rejected Flair's offer to help her up after the bell.
There's currently no word on how Asuka is doing after the kick. WWE is yet to issue an update and there have been no other reports on the matter, so here's hoping she's doing okay and doesn't have to miss significant screentime as a result of this.
Create Content and Get Paid
---