Awesome Kong Announces Retirement At NWA EmPowerrr
The legendary Kong makes a shock EmPowerrr appearance to announce her in-ring retirement.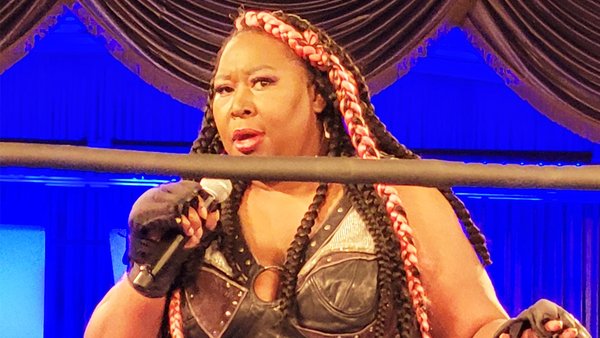 With NWA EmPowerrr now in the record books, one of the biggest news stories to come out of this all-female PPV is the in-ring retirement of Awesome Kong.
Kong made a surprise appearance at EmPowerrr, coming to the ring to join forces with long-time rival Gail Kim.
After Kim was interrupted by Taryn Terrell, Jennacide and Paola Blaze, Kong made her way to the ring and attacked Jennacide and Blaze. Following a staredown between the two famed foes, the real-life Kia Stevens praised Gail as her greatest rival, before then announcing her retirement and sharing an emotional embrace with Kim.
A 19-year veteran of the wrestling business, Awesome Kong is revered as one of the true greats of her time, serving as a pivotal part of making TNA's Knockouts division must-see in the late-2000s and beyond - including two stints as Knockouts Champion and one run as Knockouts Tag Team Champion.
The powerhouse Kong also had a brief spell under the WWE banner as Kharma, and more recently made a handful of fleeting appearances for AEW. Away from the squared circle, Stevens played Tammé "The Welfare Queen" Dawson in Netflix's GLOW.
Since Awesome Kong confirmed her retirement, the wrestling world has reacted with plentiful praise for this legendary figure:
They carved the path that we were inspired to follow..

We chose TNA/@IMPACTWRESTLING as our home in this Realm for many reasons, Children..Here are two of them.. #WeAreImpact #EMPOWERRR https://t.co/Thz40D5spR

— Rosemary, The Demon Assassin (@WeAreRosemary) August 29, 2021
How it started vs. how it's going

The two icons who lit the flame that sparked a revolution sharing a very special moment at @nwa #EMPOWERRR @gailkimITSME @MeanQueenK pic.twitter.com/lSsVmZ2t4h

— IMPACT (@IMPACTWRESTLING) August 29, 2021
#thankyouawesomekong pic.twitter.com/RiCimGZoXH

— ?N Y L A R O S E? (@NylaRoseBeast) August 29, 2021
SO SPECIAL ? https://t.co/UK9cIEOoNu

— Shazza McKenzie (@Shazza_McKenzie) August 29, 2021
Create Content and Get Paid
---