Awesome Kong's AEW In-Ring Future In Doubt?
Have AEW fans already seen the last of Awesome Kong between the ropes?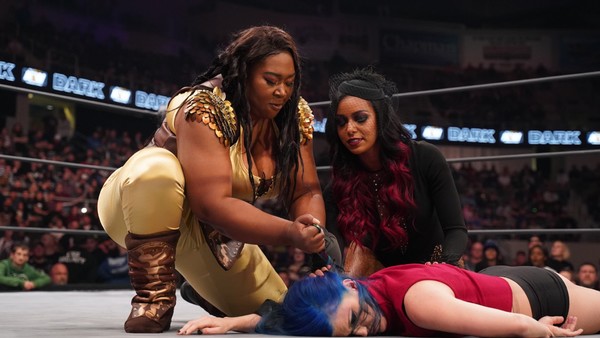 All Elite Wrestling is selling the story that Awesome Kong could be finished as an in-ring performer after suffering what they describe as "serious injuries" following her apparent dismissal from The Nightmare Collective on last night's episode of Dark.
The Impact Wrestling legend was destroyed by stablemates Dr. Luther and Mel after the latter had lost to Hikaru Shida on the show, leaving AEW's most maligned stable in tatters. The Nightmare Collective left Kong in the dirt and she had to be helped to the back by officials.
AEW posted this follow-up shortly after the beatdown:-
The "injury" aspect of this is almost certainly a work, given Kia Stevens' busy schedule away from pro-wrestling. On top of this, it's unlikely that she is totally done with the promotion, as she was brought in as a player-coach, though it sounds like she has been written off for the foreseeable future.
Kong's AEW run has been mixed. She's still a big name who commands big respect, and she got a tremendous reaction at Double Or Nothing, though being associated with AEW's most widely criticised storyline hasn't benefitted her. Let's hope AEW finds something more satisfying for Kong to do should she return.