Backstage AEW & WWE Reactions To Adam Copeland Jumping Ship REVEALED
How AEW and WWE's locker rooms have reacted to the former Edge at WrestleDream.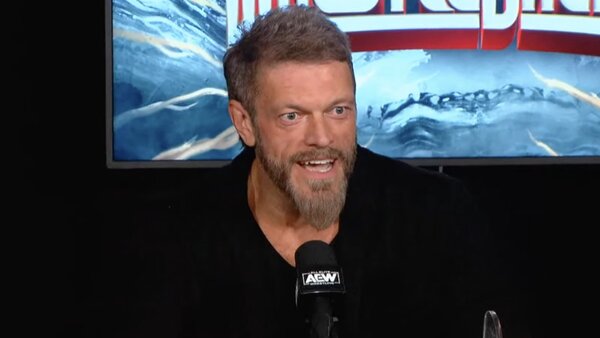 Adam 'Edge' Copeland's jump from WWE to AEW has been met with a unanimously positive backstage reaction in his new home.
Fightful Select's AEW sources have indicated as much. The outlet notes that Copeland, who will be a full-time presence in AEW (in a variety of capacities), is seen as somebody who can fill the gap left by CM Punk - according to one "long-time AEW talent." In the process, the same source acknowledged that Punk himself had been a help to many in the promotion during his time there.
Another AEW talent indicated that although they were not officially clued in on Copeland's WrestleDream debut, it was "the worst-kept secret in wrestling." Talent in both AEW and WWE had been speaking about Copeland going to AEW as something that was going to happen as early as mid-August. By the past weekend, the conversation turned very matter-of-fact.
WWE sources noted that by the start of summer, it had become obvious that the former Edge wasn't staying with the company. People within the company noted, too, that Copeland departed on good terms, and would be welcomed back if he ever chose to return.
On the whole, WWE sources are said to be "happy for him."
Copeland debuted for AEW on last night's WrestleDream pay-per-view. Although his old ring name, Edge, is owned by WWE, the company did not have exclusive rights to his long-time theme, Alter Bridge's 'Metalingus'. Additionally, WWE let the trademark on his 'Rated R Superstar' nickname lapse in 2020, freeing Copeland to use it in AEW.