Backstage Heat On Brock Lesnar After WWE Royal Rumble 2023
The Beast's improvisations didn't go over well with everyone at Saturday's event.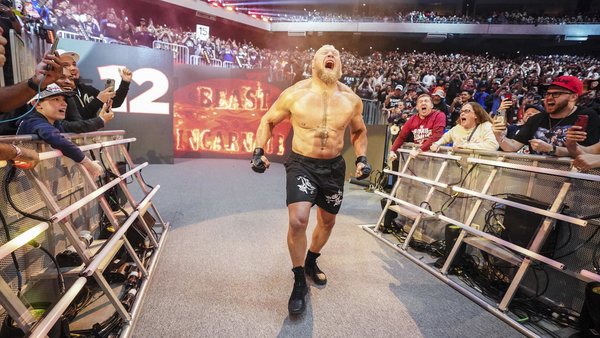 Brock Lesnar's early exit from Saturday's Royal Rumble match led to the Beast going on an unhinged rampage at ringside that apparently went off-script a bit, and that might have rubbed some the wrong way.
Lesnar was eliminated from the Rumble after less than three minutes when Bobby Lashley dumped him out. Brock sat on the ground incredulous for a bit before going berserk, slamming the ring steps on the announce desk, demolishing Baron Corbin and shoving referee Eddie Orengo over the barricade.
But Fightful Select reports that some of those spots weren't planned and caught several by surprise, which has led to some heat on Lesnar. Reportedly, some wrestlers in the ring and personnel at ringside weren't aware of the spot with the stairs being used as a weapon, nor the moment he threw part of the desk back into the ring.
BROCK LESNAR IS DESTROYING EVERYTHING AND EVERYONE!@fightbobby eliminates The Beast in the Men's #RoyalRumble Match and @BrockLesnar is taking out his frustrations at ringside! pic.twitter.com/vW8PtO9I0F

— WWE (@WWE) January 29, 2023
One source told Fightful that they were aware "a freak-out was planned, and it's Brock, so expect anything and everything."
However, dumping the ref over the barricade might be the spot that landed Lesnar in a bit of hot water. Orengo reportedly was supposed to be the ref who raised Cody Rhodes' hand at the end of the Rumble, but because he went to the back to sell Brock's attack, another referee had to take that spot. There were rumors that Orengo sustained a foot injury, but Fightful hasn't confirmed that.
It should be noted that one source commented that "heat is a relative term" when talking about Brock, and that while some people backstage were upset, it doesn't seem like this is going to be a huge issue going forward.
Create Content and Get Paid
---