Backstage Notes On Huge Cancelled Angle From Last Night's WWE Raw
Last night's cage match between Bobby Lashley & Omos was almost a LOT different.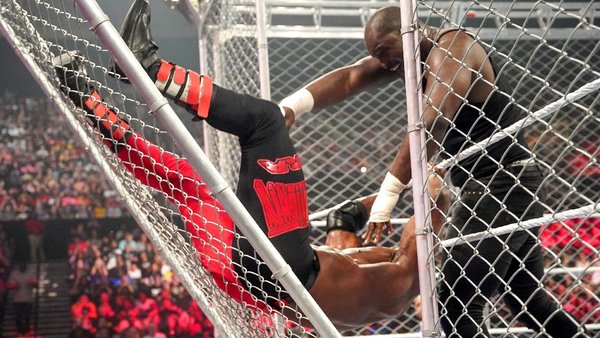 Bobby Lashley defeated rival Omos in a steel cage match on last night's episode of WWE Raw, claiming the victory after making it to the ringside floor when his colossal opponent threw him through a collapsing cage wall - but the bout was almost a lot different.
Per WrestleVotes, who reported the following prior to Raw hitting the airwaves, an idea involving the ring collapsing during Omos vs. Lashley had been mentioned in the week leading up to the show. This ended up being rejected over the weekend:-
Over the course of the past week, there was an idea for a collapsing ring angle during the cage match tonight on RAW w/ Omos & Lashley. I've heard that idea got squashed over the weekend. Good. It's way overplayed.
Ring collapses are a relatively common occurrence in WWE whenever two gigantic wrestlers are paired together. Big Show was the chief protagonist in these angles during the 2000s, with the spot later reprised for his 2017 feud with Braun Strowman, which was important in getting the younger wrestler over as a monstrous force early in his singles run.
Lashley and Omos have been feuding since prior to WrestleMania 38, where Bobby defeated the seven-footer in their first singles match. The duo have since scored a victory over each other apiece, with Lashley's Raw win improving his record against Omos to 2-1.
WWE has announced that Lashley, MVP, and Omos will take part in an All Mighty Challenge segment on next week's Raw.
Create Content and Get Paid
---