Backstage Reaction To MJF & CM Punk's Incredible AEW Segment Revealed
How the AEW locker room reacted to Punk and MJF's acclaimed 20-minute Dynamite promo battle.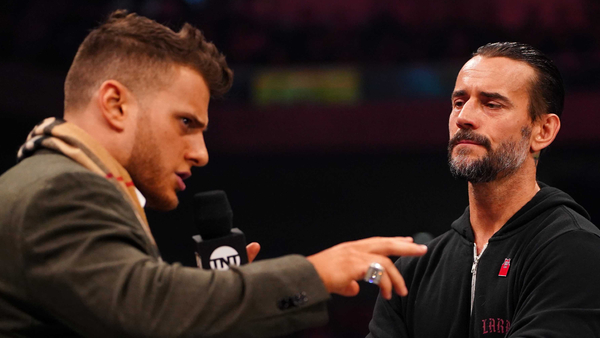 Last week's AEW Dynamite was highlighted by a very un-AEW segment, as MJF and CM Punk engaged in a 20-minute promo battle to open the show, drawing widespread acclaim from fans and critics alike.
Built on the previous week's non-verbal confrontation between the duo, in which Punk rejected the Pinnacle man's offer of a handshake, it saw the duo taking chunks out of each other in the microphone, with Punk's WWE history called upon to sell the story. It created an atmosphere hotter than the sun's surface in the building - and it sounds like this was reflected backstage.
Speaking on Busted Open Radio, AEW's Mark Henry revealed that around 30 wrestlers gathered to watch the promo battle at the monitors (h/t WrestlingNews.co):-
"I'm sitting at the monitor. There's 30 wrestlers sitting around that area, and everybody is popping. If you're popping wrestlers, you've done something in your life. You won. I had to get up, walk out to the crowd to feel it because that's why people go to wrestling. People go to wrestling because of how you feel, not because you just want to be entertained. There is true life, emotional investment. You want to feel it.
Henry continued, outlining the importance of crowd connection when it comes to segments like MJF vs. Punk:-
"That's one of the reasons why AEW is so popular right now is because the crowd feels like they have a role in what they're seeing, and they do. They absolutely do. I got to go out there. It felt like electricity moving my clothes one zinger to another one, one zinger back and forth. The city of Chicago, everybody that was there, will get to tell people for the rest of their lives, 'I was at that show where CM Punk and MJF went toe to toe, a battle of wits, over 20 minutes, and not one punch connected.'"
AEW is yet to confirm a date for Punk and MJF's seemingly inevitable match.
Create Content and Get Paid
---