Backstage Update On WWE Revamping And Unifying Titles, Future Plans For Other Titles
New title designs, unification matches, lineage questions and what's next for other titles.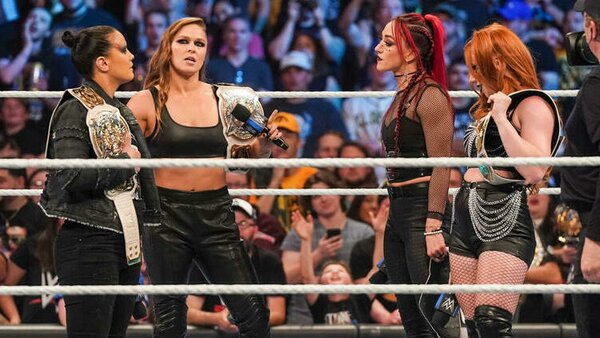 If you're a title belt fan, the past couple of weeks have been pretty much your time to shine.
In the past month, WWE has unveiled a new World Heavyweight Championship (won by Seth Rollins), a newly designed WWE Universal Championship, and now a new WWE Women's Championship to replace the Raw Women's Title.
And it looks like more changes are coming.
Fightful Select reports that the decision to present Asuka with a new title with a new name had a twofold reason: to address the problem of the Raw Women's Champion defending the title on SmackDown, and to have the Women's Title resemble Roman Reigns' belt and be portrayed on an even plane.
A WWE source told Fightful that Rhea Ripley's SmackDown Women's Championship (exclusive to Raw) will be receiving a similar treatment of a name and/or appearance change. It honestly wouldn't be surprising if this came on Monday, just to keep the wheels turning.
Fightful noted that the plans to unify the WWE and NXT Women's Tag Team Championships dates back to April, when the WWE Draft occurred. The NXT tag titles were created in 2021 after then-WWE Women's Tag Team Champions Nia Jax & Shayna Baszler were involved in a controversial title defense in NXT. Fightful noted that several in NXT were confused about why they were created in the first place.
Going forward, it looks like the unified Women's Tag Titles will be defended across all three brands, which was the original plan when the WWE Tag Titles were established in 2019.
Regarding the confusing lineage of the current WWE Universal Championship, a WWE source told Fightful that technically both the Universal and WWE Championship histories live on in the single title, but the belief is that the 60-year-old WWE Championship's lineage will continue whenever Reigns loses the title. (The Universal title was established in 2016.)
Lastly, it's worth noting that WWE sources have told Fightful about frustration surrounding the company using "undisputed" in the names of the WWE Universal Championship and WWE Women's Championship, as each are not the only "World" Titles on the same level (Rollins' World Heavyweight Championship and Ripley's SmackDown Women's Championship).
But, as is typical in WWE, a higher-up admitted that the term was confusing, but when it's been brought up, the concern has "been dismissed."