Backstage Update On WWE's Plans For Indus Sher
Latest on WWE's intentions for Jinder Mahal, Sanga, and Veer on Raw.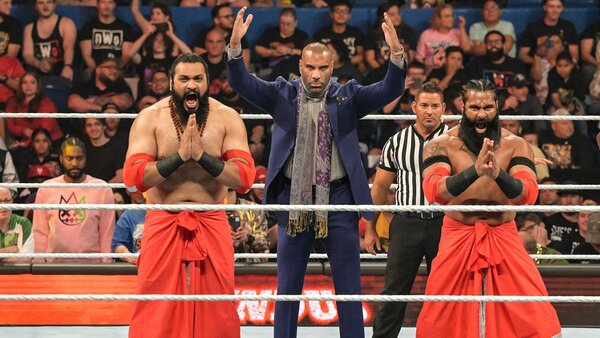 Indus Sher's strong push continued on last night's WWE Raw, with the Jinder Mahal-managed Sanga and Veer attacking Cedric Alexander and Shelton Benjamin before an intended match between the two teams, injuring Alexander in the process.
PWInsider's Mike Johnson reports that the injury angle was planned in advance. Currently, WWE wants to position Indus Sher strongly ahead of the promotion's return to India, with a September date reportedly in the works for what would be WWE's first major show in the nation in several years.
The current incarnation of Indus Sher has been back together since October 2022, when they reunited in NXT. Mahal, a former WWE Champion, was appointed Sanga and Veer's manager. They have since been drafted to Raw as part of the 2023 Draft, going 2-0 in dominant, one-sided squash matches over enhancement talents.
Last night's match with Alexander and Benjamin would have theoretically represented a step up in competition. It never got started as Indus Sher attacked before the bell, "injuring" Cedric.
Indus Sher first teamed together under Malcolm Bivens' management in NXT in March 2020. Their TV appearances dried up by June, when Sanga leaked a photograph of Keith Lee's unaired NXT Championship win over Adam Cole to social media.