Baron Corbin Crowned King Of The Ring On WWE Raw
King Corbin defeated Chad Gable in an awesome KOTR finals match.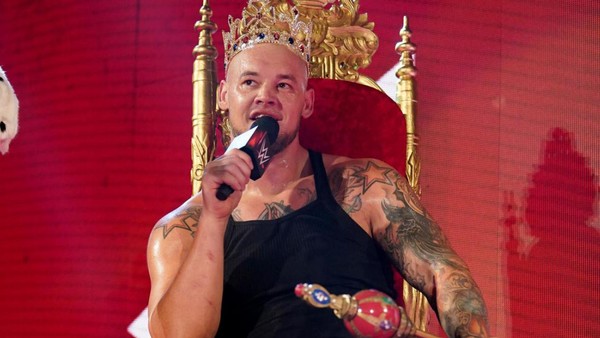 Baron Corbin is your new WWE King of the Ring.
The Throne Wolf (h/t Michael Hamflett) defeated Chad Gable in an awesome finals match, working his much-improved hard-hitting bully style on an opponent more than willing to bump for a maniac for him, resulting in another fine bout to continue Corbin's recent hot streak.
WWE.com has since announced that Corbin's coronation will go down on tonight's episode of SmackDown. Just look at him in that crown, guys. What a piece of work.
While cynics may have rolled their eyes at a potential King Corbin victory prior to the tournament, few could have predicted Baron's run panning out so well. Having largely eschewed dull resthold segments for more bruising, impactful offence, he has evolved greatly between the ropes and demonstrated this in recent matches with The Miz, Cedric Alexander, and now Gable. He might be the most improved wrestler in WWE today.
The Big Breakfast should theoretically make for a great heel King, too, as there's no way the gloriously obnoxious former Constable won't ham it up to the max. Here's hoping that his coronation continues his path of improvement and prosperity.
Create Content and Get Paid
---