Becky Lynch Cuts Emotional Promo On Charlotte Flair After WWE Survivor Series 2021
Becky Lynch on Charlotte Flair, their former friendship, heat, and more at Survivor Series 2021.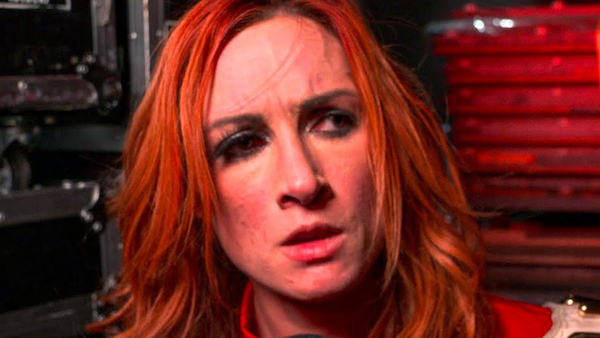 Becky Lynch cut the pick of WWE's behind-the-scenes promos at Survivor Series 2021, delivering an emotional oration on opponent Charlotte Flair, whom she defeated in the opener.
Built on real-life drama following a backstage confrontation at the 22 October episode of SmackDown, where Flair was allegedly ordered to leave the building, Flair vs. Lynch was the most heated thing on the lineup. Presented as something of a worked shoot, it was urgent, frantic, and finished with Lynch rolling Charlotte up, pinning her rival with a hand on the rope.
Interviewed by Sarah Schreiber, the Raw Women's Champion confirmed this was the most emotional bout she has ever wrestled, speaking on her and Flair's former friendship (h/t Wrestling Headlines):-
"Yeah, even watching the video packages, I got a little bit emotional, you know? Because, you know… to see every… to see where we came from to where we are now, and the hatred here, the hatred going out there, and it's just, its… it's so sad, you know? Like that's somebody who I loved so much, and who I trusted my life with, you know, and who… we've been through everything together."
Becky continued, trumpeting her kayfabe superiority:-
"We nearly died in a car crash together, and just how much we despise each other now… I just wanted to rip her apart out there, I wanted to rip her apart, and I didn't break her arm like I wanted to, like I set out to do, and I don't know if I'm happy or I'm sad about that, but I got the win and now she knows she can't deny it. She can't deny it, I'm the better woman."
Lynch spoke on her issues with Flair in detail while appearing on Ariel Helwani's MMA Hour last week, claiming she knew Charlotte was going to "purposefully disrespect" her in their planned belt exchange segment.
Flair is yet to comment on her PPV defeat.
See below for Becky's post-Survivor Series promo in full.
Create Content and Get Paid
---