Bobby Lashley FIRED On WWE Raw
Put your hands on an official, lose your job... except all the other times it never happened.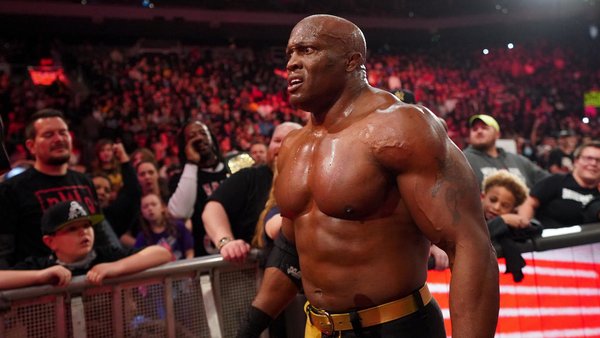 Given the way Bobby Lashley was ominously warned about putting his hands on WWE officials on last week's Raw, you had to figure some sort of disciplinary action was going to pop up in the aftermath of Monday's match against Seth Rollins.
But who had "Lashley gets fired from an errant elbow" on their bingo card?
After accidentally spearing producer Petey Williams last week, Lashley elbowed a referee who tried to pull him off another ref after losing the United States Championship #1 contender's match. The match referee hurt his leg, which delayed a pinfall count for Lashley, which incensed the All Mighty. However, the ref was in the right position to count Rollins' pin when he countered a second spear with a Pedigree.
Adam Pearce aggressively tried to get in Lashley's face, got shoved, and responded by firing the former WWE Champion on the spot to close Raw. Because we've never seen a wrestler put their hands on an official before. Or we've seen it, but they've always suffered huge consequences.
.@fightbobby just got FIRED?!?! 🤯#WWERaw @ScrapDaddyAP pic.twitter.com/nWziVkY34s

— WWE (@WWE) December 13, 2022
Getting Lashley off WWE TV for a few weeks to prepare him for a WrestleMania program with Brock Lesnar isn't the worst idea, and having him as unpredictable and dangerous as the Beast is probably a smart move. But firing him six-plus weeks before the Royal Rumble is... definitely a choice.
We'll have to see if this holds up next week or if it's played off as Pearce going too far in the heat of the moment and Bobby is brought back, or if he really disappears from television for the time being.