Bobby Lashley Returns On WWE Raw, Challenges Omos For WrestleMania 38
Former WWE Champion to have first match since Royal Rumble against undefeated giant.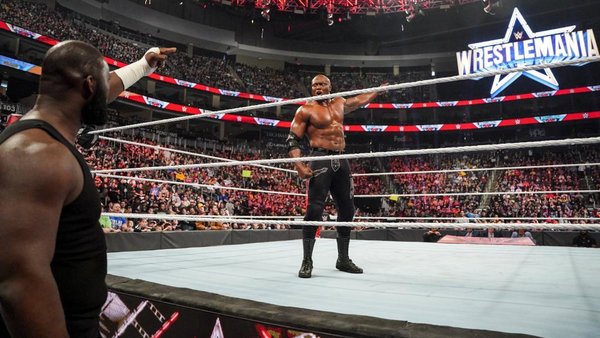 Former WWE Champion Bobby Lashley made his triumphant return to Raw Monday night to confront Omos and set up a WrestleMania 38 match between the two.
The Colossus has been on a tear recently, beating up wrestlers in singles and handicap matches and insisting that no one can "dominate" like him. He's repeatedly used that word, which is a term associated with Lashley throughout his WWE career.
Lashley made his appearance after Omos toppled the Viking Raiders via count-out in short order, coming out to a hero's welcome. The All Mighty barely had a chance to look at the WrestleMania sign when Omos pie-faced him into the corner. Lashley fired back with a couple of shoulder blocks that staggered the giant a bit. A third running shoulder actually dropped Omos, which the announcers pounced on, noting that he had not been knocked off his feet during his entire WWE run.
Omos rolled outside and both men gestured to the Mania sign, setting up the collision between the two.
Looks like The All Mighty @fightbobby may have just answered the #WrestleMania challenge from @TheGiantOmos!! #WWERaw pic.twitter.com/0FT0QLscMW

— WWE (@WWE) March 29, 2022
We last saw Lashley at Elimination Chamber, when the then-WWE Champion was taken out of the match while still in his pod. (Brock Lesnar would win the match and the title.) The injury angle was reportedly masking a legit injury suffered at Royal Rumble against Lesnar. Reports stated that Bobby could be out for months, but that must be counting backwards to the Rumble or just inaccurate, because Lashley looked solid and set for what could be a physical match this weekend.