Braun Strowman To Bray Wyatt: "Windham, I'm Waiting For You Brother"
In which Adam Scherr teases working with Windham Rotunda outside of WWE...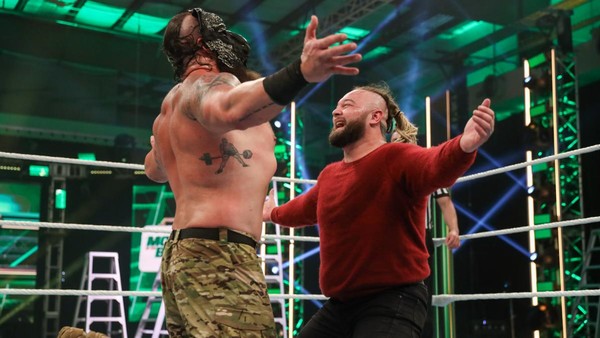 The former Braun Strowman has teased working with former WWE stablemate Bray Wyatt outside the world's biggest wrestling promotion.
Speaking on Control Your Narrative, Adam Scherr mentioned Windham Rotunda by name when asked who he'd like his next opponent to be, coming off his comeback match with EC3 at Free The Narrative II: The Monster In Us All on 1 October (h/t Sportskeeda):-
"I don't know if it's really one person. I think it's anyone, anyone that has something inside them that they need to get out. Anybody that needs to be set free. These things have always been good [stares at his hands] at setting things free... There's only one man on this earth that I want to see knocking that door. He's family, he showed me things in life that I never could have imagined seeing. He bestowed the gift upon me of being the godfather to his son. Windham, I'm waiting for you brother."
Scherr and Rotunda worked together extensively in WWE, where Strowman was introduced as a member of the newly-reunited Wyatt Family stable in July 2015. Though they were separated the following year, the duo came back together for a feud in 2020, with Braun successfully defending the Universal Title against Bray at Money in the Bank 2020 before falling in a maligned Swamp Fight at The Horror Show at Extreme Rules two months later.
Both rank amongst the most shocking wrestlers to be released by WWE in recent years, given their stature in the promotion. Strowman was let go in June 2021, having worked a WWE Title feud less than a month prior, while Wyatt was let go on 31 July.
Though Rotunda has been linked extensively to AEW and IMPACT Wrestling, he is currently bound by a 90-day non-compete clause expiring on 29 October.
Create Content and Get Paid
---