Bray Wyatt Challenges The Rock For WrestleMania 33
Will The Rock run away from this fight?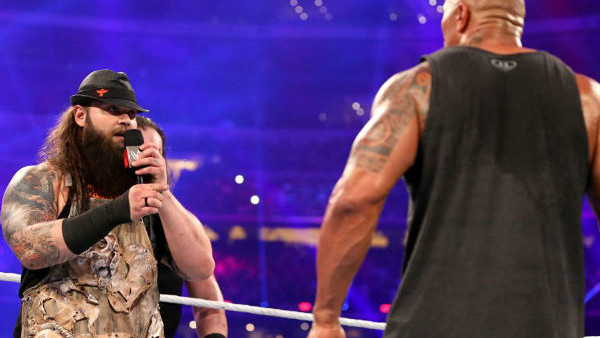 The Wyatt Family appeared on Sports Center with former WWE announcer Todd Grisham this week, and Bray made it known that he wants The Rock at WrestleMania 33.
"Being out there with The Rock… It was cool, I guess I would say, but I would also have to admit that we have unfinished business, and if he's listening or watching, Rock, I would love to finish it at WrestleMania 33."
The unfinished business stems back to WrestleMania 32 when the two went face-to-face in the ring, and Erick Rowan battled The Great One in a six second match. Afterwards, Bray and the rest of the Family were about to attack the movie star, when John Cena ran-in and joined forces with The Rock to clear them from the ring.
Rock hasn't competed in a full-on match since WrestleMania 29, and it's hard to guess when (or if) he'll work another one. It would entirely depend on his movie schedule, and if any studio would dare let him into the ring and risk injury.
If they did battle at 'Mania, it would be a badly needed boost for Bray. Wyatt has struggled as a character lately, thanks to his inability to pick up the wins when they matter. Will The Rock accept the challenge? If he does, we probably won't know for months. Still, it's fun to think about an actual feud between the two.