BREAKING: IMPACT's Eric Young Injured, Will Miss 6-9 Months
Former IMPACT World Champion Eric Young set for lengthy absence after major injury setback.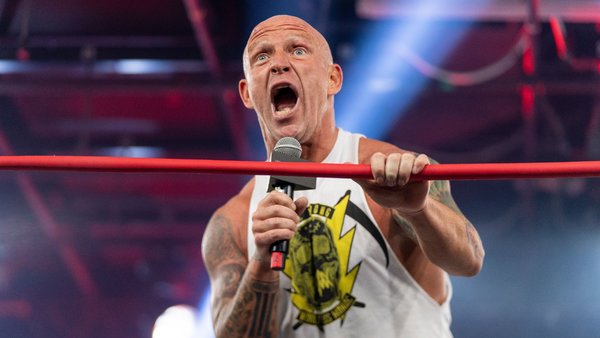 IMPACT Wrestling's Eric Young has suffered a torn ACL.
Speaking on the Wrestling Perspective Podcast, Young revealed that he suffered the injury at IMPACT's most recent set of television tapings, adding that he'll be going under the knife in around a week-and-a-half:-
"At the last tapings I tore my ACL. It's the first time I've ever been injured. I missed my first wrestling show this Friday that I was booked on in 24 years of doing it, so it's frustrating, man. I've never been injured. I've been hurt lots, but I've never been injured. I have to have surgery in like a week and a half, and it's going to be a long, long road."
The former IMPACT World Champion confirmed that he will be out for six-to-nine months. He is hoping for the lower end of that scale, having suffered the injury while working James Storm in what was the Cowboy's 1,000th match for IMPACT/TNA:-
"I'm aiming for six months, I've always been very durable, I've always healed very quickly, but my ACL is completely torn, which I didn't know. That happened during the match on Monday with Storm. I finished it like nothing happened."
Young went on, revealing that he worked two more matches after the Storm bout, effectively on one leg. He didn't know his ACL was torn until finding out last Friday, having wrestled again on Tuesday:-
"I finished a hardcore war eight-man tag the following the day, then I wrestled Eddie Edwards on Tuesday in a singles match. It was like 20 minutes on one leg, and I would put that match against anything that airs anytime for any wrestling company anywhere in the world, and I did that on one leg. I'm very proud of it."
Released by WWE as part of the company's mass cuts on 15 April 2020, Young returned to IMPACT for the first time in over four years three months later at Slammiversary 2020. September saw him win the World Title from Eddie Edwards, which he then dropped to Rich Swann the following month.
Young has since formed Violent by Design with Deaner, Joe Doering, and now Rhino, who joined the stable at Sacrifice earlier this month.
All the best to EY in his recovery.
Please credit WhatCulture and include a link to this article when using any of the quotes above.
Create Content and Get Paid
---