Bret Hart Reveals Alternate WWE Summerslam 1992 Plans
What would have happened if SummerSlam didn't take place at Wembley Stadium.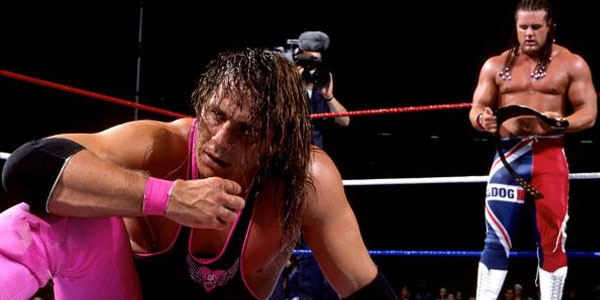 Summerslam 2014 is now just weeks away, with the rich history of WWE's biggest night of the summer looking to continue. One of the most memorable matches in the event's history was the legendary Davey Boy Smith/ Bret Hart battle for the Intercontinental title in Wembley Stadium in 1992. In a
Kayfabe Commentaries
shoot interview release this week, Bret Hart revealed what would have happened if their match didn't go down. According to Hart, Vince McMahon hadn't yet decided as to whether Summerslam 1992 would be in England or Washington DC, only having narrowed it down to those two. Hart was set to lose the Intercontinental title at the show, and wanted to maximize the heat generated for the championship switch, so he asked to work with "The British Bulldog" Davey Boy Smith in England, or "The HeartBreak Kid" Shawn Michaels in Washington, in what would have been WWE's first pay-per-view ladder match. Hart pitched the idea of a ladder match, and handpicked Michaels to demonstrate the match with him, in what would be released on home video for the company. As fate would have it, the event took place in England, and the possible Hart/Michaels Summerslam ladder match never took place. The Smith/Hart match was actually threatened beforehand, as Smith suffered a staph infection, and missed a large portion of the Summer. Hart noted that although he laid out the match with Smith multiple times, Davey Boy forgot what to do during the match, and it was called in the ring.
Create Content and Get Paid
---