Brock Lesnar & Chris Jericho Have Heated Altercation At WWE SummerSlam 2016
The two superstars nearly came to blows backstage.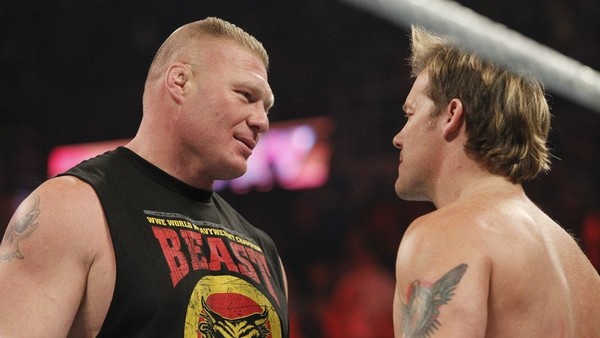 The much-talked about ending to Brock Lesnar vs. Randy Orton at SummerSlam was violent and controversial, and it nearly caused a backstage fight between Lesnar and Chris Jericho.
According to The Wrestling Observer, Jericho was in the gorilla position after the match, and when Lesnar emerged, he overheard Jericho saying "That's bulls**t." Jericho was apparently referring to Michael Hayes not knowing if that was the planned finish, but Lesnar thought he was referring to the match.
Lesnar called out Jericho, and told him to "shut up", or called him a "p***y" according to different versions of the events. Jericho got in the former UFC Champ's face and a tense shouting match went down.
The two had a minor scuffle, and apparently Lesnar told Jericho to either "kiss him" or "punch him."
Both Triple H and Vince McMahon had to break things up, with Hunter telling Vince that Jericho was just standing up for himself. Y2J also is said to have yelled at Lesnar that he needs to be professional, and that "It's all a work."
The Observer also reported that Jericho was later assured by Orton that the finish is how things were supposed to go down.
It sounds like SummerSlam was even more controversial than originally thought. There are very few people on the planet you'd want to anger more than Brock Lesnar, so this could have been a really bad situation for Jericho and the company.
It's doubtful that any suspensions or fines will come of it, as Brock basically plays by his own rules, and WWE is likely not going to want to escalate the situation any further.
Create Content and Get Paid
---