Brock Lesnar Wins UFC 200 Return In Dominant Fashion
The Beast Is Back.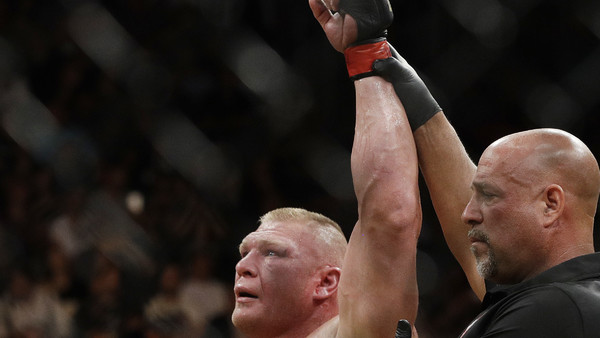 The questions of Brock Lesnar's UFC return have been answered, and with dominant punctuation. After almost five years away from the sport of mixed martial arts, the former UFC heavyweight champion stepped back into the octagon against perennial top contender Mark Hunt.
The WWE superstar entered the fight an underdog with +140 odds against one of the most feared strikers in the sport's history. There seemed to be only one clear path to victory for each man - the typical striker vs. grappler conflict - and whoever would be able to impose their will would be the man to have their hand raised.
Brock entered the cage to 'Enter Sandman' by Metallica, and from the beginning of the fight he appeared loose and comfortable. The two competitors were clearly respectful of their opponent's skillset, as Hunt was reluctant to close the distance while Lesnar exhibited a hesitance to engage in striking exchanges.
Lesnar won the first round after securing multiple take-downs and landing some effective ground and pound, although Hunt was never in any true danger. The second round swung Hunt's way, as he was able to keep the fight standing and disrupt his much larger foe's rhythm, though fear of Brock's wrestling kept him at bay. He was afraid to commit to throwing punches for fear of Lesnar's shot.
It all came down to the final five minutes. The two men met in the center of the cage and Lesnar was able to secure an early take-down. Once Brock had the veteran fighter on the ground, he didn't let him up. He worked into the mount position and started pummeling Hunt with vicious short arm strikes.
To his credit, 'The Super Samoan' was able to withstand the barrage and even tried returning some shots of his own, but being pinned to the mat left him with no leverage, and his punches had no effect on Lesnar. As time expired, it was obvious to everyone watching that Brock was victorious
Judges scored the bout 29-27 in Lesnar's favor, and despite Joe Rogan's attempt to get an answer out of Brock regarding his UFC future, he deflected, saying it's too soon to think about what's next.
Many MMA fans scoffed at the notion that the WWE performer would be able to return to real fighting after such a lengthy absence and pick up a win over a top talent with a skillset that seemed designed to exploit Lesnar's weaknesses.
No one is scoffing now.
Create Content and Get Paid
---