Chris Jericho On WWE's Broken Skull Sessions - Everything You Need To Know
How did Stone Cold convince Vince McMahon to let AEW's Chris Jericho appear on his show?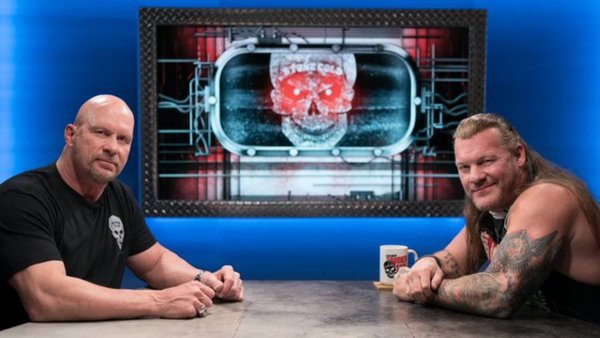 AEW's Chris Jericho is set to appear on the next edition of WWE's Broken Skull Sessions on Peacock and the WWE Network on Sunday, April 11.
On top of the apparent "forbidden door" (along with the walls) being broken down by having a current top AEW star appear on a prominent WWE show, this will also be Jericho's first appearance in the company since 2018.
When asked about this shocking turn of events during an interview with Sports Illustrated, Austin revealed that the former Undisputed WWE World Heavyweight Champion reached out to him following the 'Texas Rattlesnake's recent sit-down conversation with The Undertaker:
"I was having a beer one night after my Broken Skull Sessions interview with The Undertaker aired, and out of the blue, Chris Jericho reached out and said, 'Man, that was a great interview,'. I sent him back a couple of those emojis, one of a beer mug and the other of an eagle, and then he called me right then and there.
"We got to talking. I've always respected the hell out of his career, and I'm glad they're around—it gives the guys and girls in professional wrestling more places to work. I said, 'I'd love to have you on the show.' And he said he'd love to do it, so I checked with Vince [McMahon] about it."
It was at this moment when the seemingly unthinkable happened and, instead of refusing to shine a light on a talent from a rival wrestling organisation (as McMahon has regularly been known to do), the boss gave the green light for the former AEW World Champion to show up on the latest episode:
"I texted Vince and said we had this badass idea about Jericho coming on the show. Vince goes, 'It's cool. Go ahead.' But me and Vince don't always do well with phones and texts and all that, so I texted one more time, 'Are you sure it's O.K. to have Chris Jericho on the show?' Vince gave me the thumbs up, and Chris came out to do the show."
There's no questioning that some serious buzz has been generated for this one-time unthinkable collaboration between the two companies, a moment that was announced via a stunning Twitter post.
No foolin' around here. You're gonna get ... IT! ? @IAmJericho joins @steveaustinBSR on the next #BrokenSkullSessions, premiering Sunday, April 11 on @PeacockTV in the U.S. and @WWENetwork everywhere else! pic.twitter.com/fQPzQ3QBDW

— WWE Network (@WWENetwork) April 2, 2021
Austin would also reveal that no topic was off-limits during their already recorded sessions, stating:
"We go into everything. Jericho is one of the all-time greats, and it's going to be cool to have someone from AEW on a WWE show. To bottom line it, I'm excited for people to watch this show."
Speaking during his NXT TakeOver: Stand and Deliver conference call yesterday, Triple H weighed in on the ground-breaking appearance too. He confessed that he wasn't surprised about the development due to the fact that Vince regularly states WWE is "open for business":
"Vince has been very adamant in that, right? Open for business, what's best for business for the WWE and open to working with whoever that is. It's a funny thing that people sometimes create their own situations in their head, but it's not shocking to me…"
Whether this means the two companies will now regularly work together going forward remains to be seen. But as of this moment, we know precisely what each and every AEW and WWE fan will be watching post-'Mania 37...