Chris Jericho References Backstage WWE Fights On AEW Dynamite
Jericho's latest AEW promo included nods towards WWE's Brock Lesnar and Goldberg.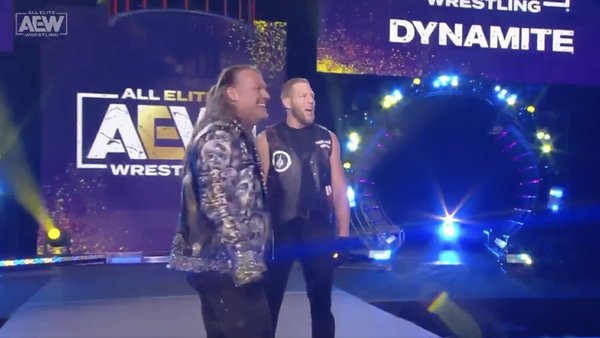 Chris Jericho mentioned some of his backstage WWE fights during a fiery promo on Wednesday's episode of AEW Dynamite.
The legend confronted Dan Lambert and American Top Team from the ramp. Whilst pondering which members to beat up first, Jericho noted that his pal Jake Hager is undefeated in MMA fights. Then, Chris dipped into his own past by saying he "got into it with a UFC champion 'Beast' a few years ago".
Score one for the Brock Lesnar references, but Jericho wasn't done. He then went on to stroll down memory lane again by adding, "...and a few years before that, I had a shoot fight with an MMA-trained raging Bill backstage".
That, of course, was a nod towards Jericho's much-publicised backstage fight with Bill Goldberg. Though the AEW star didn't mention WWE by name, it is interesting that he chose to reminisce about some of his most controversial shoot moments during an otherwise-worked promo.
Lesnar and Jericho had a confrontation behind the scenes at SummerSlam 2016. Reportedly, the latter was upset by Brock's actions during a match with Randy Orton, and he wanted to let him know about it.
Meanwhile, Jericho and Goldberg had heat stemming from the WCW days. It boiled over when Bill joined WWE.
Create Content and Get Paid
---