CM Punk Gives Samoa Joe Some WWE WrestleMania Advice
Punk gives Joe some Mania tips.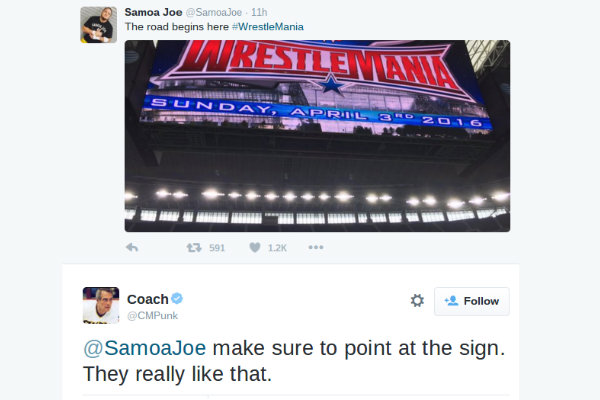 CM Punk has offered some advice to Samoa Joe on WrestleMania. The NXT superstar tweeted a photo of the WrestleMania sign on Thursday, saying "the road begins here." Punk tweeted a reply, stating "@SamoaJoe make sure to point at the sign. They really like that." It was a funny tweet, Punk is right, the pointing at the Mania sign is one of the most clichéd spots in WWE. Joe was attending the WrestleMania ticket launch at Cowboys Stadium, the venue that will be playing host to the mega event on April 3. An NXT ring was set up for the occasion, with NXT wrestlers working matches in front of a small crowd. The bad news is, photos from the stands, highlighted just how bad the views are going to be in the less expensive seats. The ring looked tiny and it seemed to be a huge distance from the stands. It is interesting that Joe perhaps sees himself having a role in Mania. Saying "the road begins" suggests he has ambitions on making the card. However, the fact is, WWE only have plans for him on the NXT brand. It isn't likely he'll be on the main brand at any point, so it would be surprising if he did manage to get a gig on the actual Mania show.
Create Content and Get Paid
---