CM Punk Goes Scorched Earth - BURIES AEW!
CM Punk rips into AEW, Chris Jericho, and Jon Moxley in since-deleted Instagram post.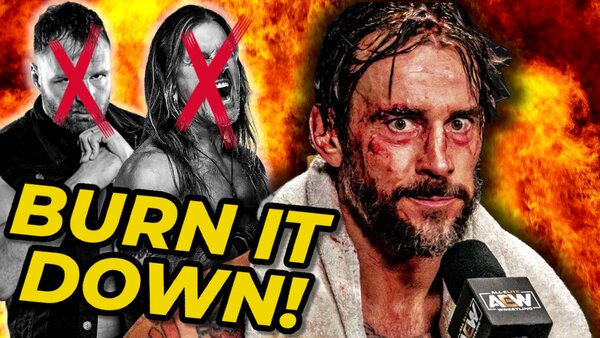 CM Punk has gone scorched earth, ripping into AEW, Jon Moxley, Chris Jericho, and Dave Meltzer in a hastily-deleted Instagram post on Thursday.
Punk appeared to be responding to Meltzer, who reported earlier that day that the 44-year-old wanted to return to AEW, the promotion he is currently suspended from after brawling with Kenny Omega and The Young Bucks at All Out 2022 in September.
The retort briefly appeared on Punk's Instagram story before being taken down. In it, Punk alleged he wasn't medically cleared to wrestle Moxley in their AEW World Title unification match last August, which saw the veteran squashed in around three minutes. Continuing, the Chicagoan alleged Mox refused to lose to him, calling Meltzer a "liar", Jericho a "liar and a stooge", and asserting that he will "never put a company above my health ever again."
Punk's post read:-
"SIGH. I wasn't cleared to come back to wrestle yet. Then plan was to wrestle at the ppv. I sat and listened to moxleys Rocky three idea. I explained how I'd never seen a Rocky movie. I and thought the idea sucked but if the boss wanted to do it whatever. He said he wouldn't lose to me. I'd never experienced someone refusing to lose to me. I just laughed. I asked Tony if this is what he wanted. He said yes. He's the boss so I said okay but I'd need to be cleared first. They kept saying it could just be a squash so I didn't need to be cleared. I scoffed at that. My health is more important. Dave Meltzer is a liar. [Chris] Jericho is a liar and a stooge. There were plans but plans always change but I'll never put a company above my health ever again."
Specifically, Punk's words were likely a response to the following post from Meltzer on the Wrestling Observer/Figure Four Online message board on Thursday:-
"Do you know why they didn't advertise Punk vs. Moxley longer and why it had a short build? Because Punk agreed to it, then AEW got a legal letter saying he wasn't down with it and wasn't doing it and they didn't know if he'd come until Tony put his foot down. There are a lot of nice things I can say about him, and you can absolutely argue his position on Moxley was correct, but you can't argue he willingly did what he was asked in that scenario.
The famously social-media-averse Moxley is yet to respond to Punk. Jericho, however, posted a photograph of Matt Hardy with a "DELETE" caption to his own Instagram story.
Punk remains indefinitely suspended by AEW following All Out, where he verbally attacked The Elite, 'Hangman' Adam Page, and Colt Cabana during the post-show media scrum, leading to the brawl between himself and Ace Steel and The Elite later on.