Cody Rhodes Reveals He Almost Had Backstage WWE Fist Fight With THIS Star
WrestleMania 39 headliner reveals near-brawl with top WWE star.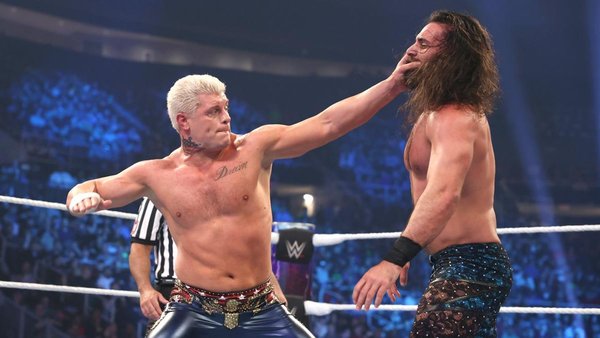 Cody Rhodes has revealed that he and Seth Rollins "absolutely can't stand one another," to the extent that they almost came to blows in a backstage fist fight.
The WWE star claimed as much during an interview on the Dan LeBatard Show. In what should probably be interpreted as an attempt at keeping up appearances, given their long-running onscreen feud, Rhodes claimed with Rollins is the person he has come closest to brawling with in front of management and peers (h/t GiveMeSport):-
"Seth Rollins is the closest I've ever had to backstage turning into a fist fight in front of all of our peers and upper management. It didn't happen. Him and I absolutely can't stand one another, I'd probably try and rip his eyes out."
This came following some general comments on backstage competition, leading with Rhodes claiming that he dislikes more people than he likes behind the scenes:-
"I almost would say that I like less people than I dislike in terms of the backstage setting. The competition that exists in wrestling, you see that suspension of disbelief on-screen, but backstage it is very real in terms of the competition, who is going to be on top. For example, who is going to headline WrestleMania. This year, being Roman Reigns and myself, it doesn't garner a lot of friends."
Such comments should not come as a huge surprise, considering Rhodes is currently WWE's top babyface star during the most focused and important time of year for the market leaders. Wrestlers are always working.
Cody challenges for Reigns' Undisputed WWE Universal Championship in the main event of WrestleMania 39's second night (2 April). Rollins, meanwhile, meets Logan Paul on the first (1 April). The duo feuded extensively in 2022, starting with Rhodes' sensational WWE comeback at WrestleMania 38 and the last instalment coming inside Hell In A Cell at the eponymous pay-per-view last June.