Colt Cabana Nearly Died In His Recent AEW Return Match
Colt Cabana's match with Chris Jericho recently was actually pretty scary...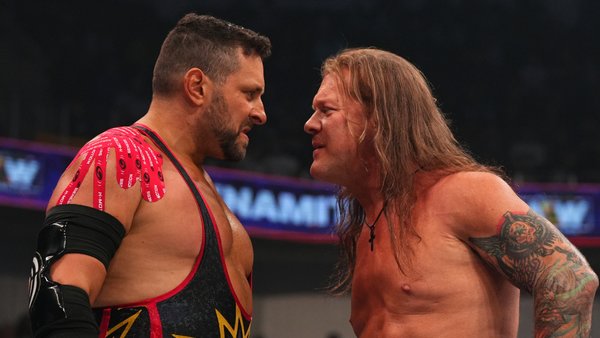 Colt Cabana's recent AEW comeback bout against Chris Jericho was a memorable one... for more than a few reasons.
As the star himself would note on his Art of Wrestling podcast recently, in the thick of one of his most emotional and high-profile performances to date, the long-time ROH performer "nearly died" on November 2.
With the veteran performer's go-to long black football/wrestling socks going missing in the lead-up to his return AEW match against Le Champion over the Ring of Honor World Championship, Cabana was forced to head out and buy some new socks for the contest.
Only, upon grabbing a pair of compression socks for the incoming showdown, the returning babyface ended up realising a little too late that, between his knee-pads, boots, and the new type of socks, he'd "essentially made a tourniquet in the bottom half of (his) body."
Sure enough, this physical restriction of his blood flow, and the expected nerves and anxiety brought on by such a pressure-filled scenario, eventually resulted in the wrestler not being able to feel his legs and struggling to breathe during the match - this restrictive cocktail led to "high blood pressure and low oxygen" as he put it.
After eventually rushing back to the trainer's room post-battle, and complaining of not being able to breathe, having a headache, and being light-headed whilst stripping off his gear, Cabana's revelation of actually sporting a pair of compression socks throughout soon led to the stunned trainers in the vicinity shockingly asking him "what?"
Two hours covered in ice and some much-needed education later, Cabana was informed as to why professionally wrestling in front of 10,000 fans in compression socks isn't exactly wise for those who wish to remain amongst the living.
What a way to make a return, eh.