Concerns Over The Undertaker's Health Prompts Michelle McCool Statement
The Undertaker's wife responds to reports of the wrestler being unwell.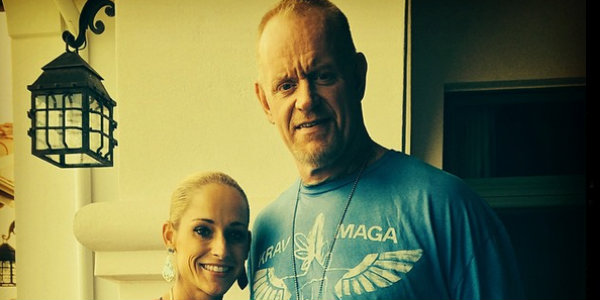 Michelle McCool has denied reports that The Undertaker is unwell and in need of fan's prayers. Her comments and the above photo appeared on Instagram, in an effort to quell speculation that her husband is in a bad way. The initial outpouring of concern for Undertaker's health came after Limp Bizkit frontman Fred Durst dedicated a song to the wrestler on Saturday evening. "This next song goes out to our friend Mark Calaway, The Undertaker. He€™s not doing real well right now and we want all our fans to keep him in their thoughts and prayers," the rocker revealed. Durst went on to play Taker's old 'Rollin' theme to a packed out San Antonio crowd. The ominous tone of this statement has led to a maelstrom of internet speculation. Fans have questioned whether Taker's health status is related to a physical injury, or some sort of serious illness. It isn't the first time that Calaway's health has been thrown into question - rumour had it that he contended with cancer in 2011. The thing is with The Undertaker, nobody really knows anything about his private life. He's an intensely old school personality, he doesn't like to share any of his real life with the WWE universe. It looks like the latest health rumours have really bothered the Calaway family, with Michelle making the rare move to comment on her husband. "Sadly, there's always rumours about my hubby! Apparently he's now super sick and not doing well! While we always appreciate thoughts & prayers, we are ALL GOOD IN THE HOOD!" So, who do we believe? Durst is indeed a friend of Calaway. It seems strange for the Limp Bizkit frontman to make such a statement without any real motivation. Perhaps Taker is ill, but the family don't want any invasions of privacy, hence Michelle's statement. On the other hand, maybe Durst was just making a reference to Undertaker's storyline destruction, before going on to play the Limp Bizkit 'Rollin' theme that Taker had in the early 2000's. Late September is usually around the time that Undertaker decides if he'll be fit enough for WrestleMania. If he is indeed not doing well, we wish him all the best in his recovery.
Create Content and Get Paid
---