Controversial Britt Baker T-Shirt Becomes Top AEW Seller
Britt Baker's black eye t-shirt sold well on AEW's shop...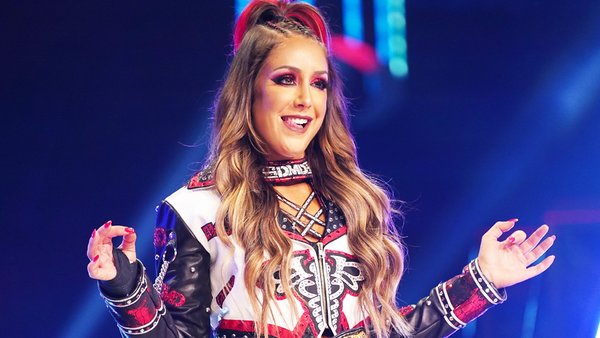 A controversial t-shirt featuring a photograph of Britt Baker with a black eye became AEW's top seller last weekend.
Bryan Alvarez reported on the shirt's sales success on Wrestling Observer Radio. AEW had quickly produced the shirt in the wake of a heat angle featuring the Jericho Appreciation Society and Outcasts, which featured the heels beating Baker down while boyfriend Adam Cole watched on helplessly, handcuffed to the ropes.
👊🏻 https://t.co/1pN26smQrV pic.twitter.com/42CGoZNjkY

— Dr. Britt Baker, D.M.D. (@RealBrittBaker) April 29, 2023
Baker's shirt became a topic of online conversation over the weekend, with Britt herself coming to its defence amidst claims that selling an item featuring her with a black eye promoted domestic violence:-
Supports domestic violence how?I got a black eye in a RING? My enemies put a pic on a shirt to troll me and I outsmarted them.🤑Does that mean all the (top selling) bloody T-shirts are supporting murder? If a male wrestler had a shirt with a black eye would you be this pissed? https://t.co/QD9ghSdgQc pic.twitter.com/I05DP2T8SS

— Dr. Britt Baker, D.M.D. (@RealBrittBaker) April 29, 2023
Since then, Britt has told Sports Illustrated Robin Lundberg that she was "very surprised" by the backlash:-
"I was very surprised. When I posted the picture of my black eye on social media, it got almost 100,000 likes [and comments saying] that I'm tough and I'm a badass and, 'Wow, this girl, she's strong.' It was empowering. But then when it went on a shirt, it was really problematic, and that was so confusing to me. Because why? If I'm on a shirt with a black eye, why does that make me weak? Why does that make me a victim? But if a man, or Chris Jericho, had a black eye, they'd be tough and they'd be a badass.
The angle, which aired on AEW Dynamite's 19 April episode, saw Baker come to Cole's aid as she was being attacked by the JAS. No male wrestler put their hands on Baker during the segment, with the JAS merely conducting Saraya, Ruby Soho, and Toni Storm in the attack that left Britt bruised.