Corey Graves Wants THIS To Be His First WWE Match Post-Retirement
WWE announcer Corey Graves knows exactly what he wants to do for his first match back.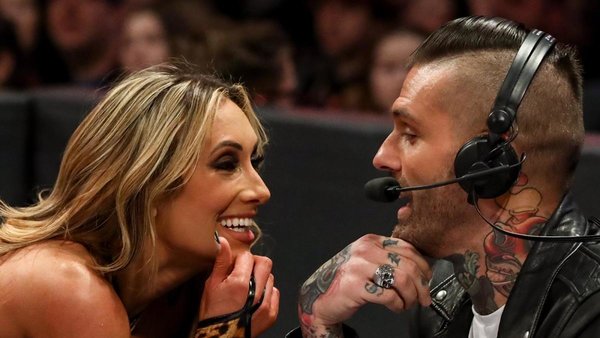 Corey Graves would love to team with his wife Carmella on WWE TV, and has openly started discussing that dream scenario in interviews with the media.
The WWE announcer also told Pop Culture that he's started training in-ring with the NXT roster lately - this is all part of Corey getting the ball rolling on a heavily-rumoured return to active wrestling. He retired in late-2014 after suffering concussion issues, and has worked as a colour commentator ever since.
Now, Graves is determined to get back in the ring as an active worker, and he'd love to do so in mixed tag action alongside Carmella. It remains to be seen whether or not Triple H will take Corey up on this idea, or exactly which show such a bout would take place on.
Would it be Raw? SmackDown? NXT where Graves has been training and made his mark as a pro wrestler before retiring? That's anyone's guess, but Corey is leaving no-one guessing about who he'd like to work with when he does return.
He said he "can't think of a better scenario" for his comeback than teaming with 'Mella.