Current Star Labels Infamous AEW TV Segment "F**king Dogs**t"
This AEW talent discusses "disastrous" 2021 TV segment.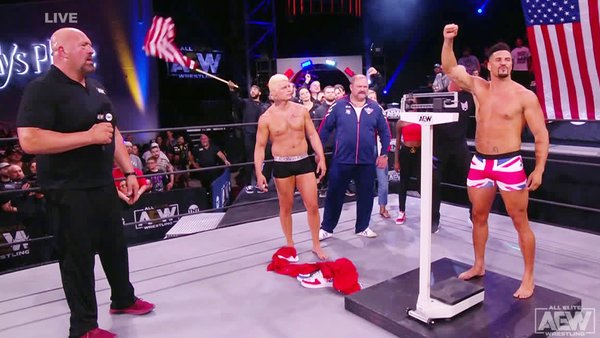 Ahead of their match at AEW Double or Nothing 2021, Anthony Ogogo and Cody Rhodes were involved in a weigh-in segment on Dynamite that was dull, dour and came off as, well, a bit naff.
Hot on the heels of Paul Wight - who shortly after debuting for AEW was involved in this segment - recently labelling the weigh-in a "freakin' disaster" and "f**king rough", Ogogo himself has moved to describe the whole idea as "f**king dogs**t, mate".
Speaking during an appearance on Insight with Chris Van Vliet, the Olympian bluntly explained:
"F**king dogs**t, mate! F**king dogs**t! So, Cody said to me that we were going to do a weigh-in. Im like, 'Cool, so what's going to happen?' And Cody is brilliant, he is brilliant at what he does and he has a great mind for it, he is a really good coach, great promo coach. QT [Marshall] is a great wrestling coach, any move he can teach you how to do it, how to get out of it, the reversals. QT is the f**King man. However, [Cody] was like, 'We are not going to touch'. I'm like, 'Oh, I have watched enough wrestling to know that that's a bit drab, a bit s**t'. He says, 'Nah, it's gonna be cool'. It's my third week on TV, I am going to turn up, work hard and do what I am told."
Ogogo went on to say how he was thinking "this is crap" as the segment was happening, how "the whole thing was disastrous", and how he "wanted the ground to swallow me up".
While the rivalry between Rhodes and Ogogo had promise, it soon became a confused flag-waving affair which fans had minimal interest in and which neither man benefitted from. Once Double or Nothing rolled around, Cody picked up the win in relatively straightforward fashion.
Ogogo would have just one more match after DoN '21 before he had to undergo eye surgery that kept him out of action for six months. The 33-year-old would be back in action alongside his Faction cohorts by the end of 2021, and he's spent the past several months appearing regularly on AEW Dark and AEW Dark: Elevation.

Create Content and Get Paid
---