Damian Priest Becomes "The Bad Guy" On WWE Raw, Destroys Finn Balor
Damian Priest went nuts on Finn Balor after losing the United States Title on Raw...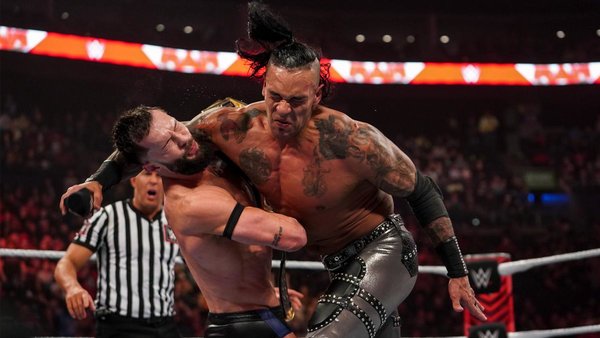 Do you like heel turns? Then last night's WWE Raw was the show for you.
In the segment prior to Edge moving over to the villainous side at AJ Styles' expense, WWE pulled another turn, flipping the switch on Damian Priest after the big man had dropped the United States Championship to Finn Balor.
A match lasting roughly 11 minutes concluded with Balor ending Priest's reign at 191 days, taking the pinfall after hitting the Coup de Grace. Afterwards, Damian got on the microphone, saying the audience helped lift Finn up for the victory and that they'd never treated him with the same respect. He then got in the new champ's face after saying he'd be coming for the gold again, knocking Balor down when the Irishman stepped up to him.
For his trouble, Balor got thrown out of the ring then put across the announce table. His assault complete, Priest declared himself "the bad guy", all while the crowd booed.
This has been coming for several months. The now-former US Champion has been working a Jekyll and Hyde type gimmick on Raw, veering between his good ("Priest") and bad ("Damian") sides, often within the same match. Now, it appears he is going full-on heel after an initially successful babyface run on Raw.
Create Content and Get Paid
---