Dana White Reveals Text Messages From Vince McMahon Over Connor McGregor WWE Rumours
The UFC president whips out his phone on TV in order to end the speculation.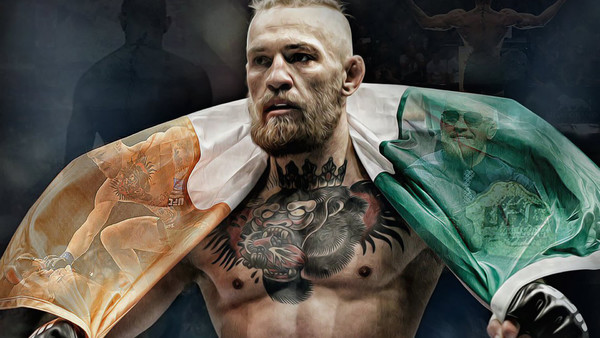 For the second consecutive year since his ascension to the most popular combat sports star in the world, rumors have swirled that Conor McGregor is interested in netting himself a WWE payday.
Claims have circulated that "The Notorious" has been flirting with the idea of making an appearance at WrestleMania - possibly even working a match - and several sources have reported that negotiations have already begun.
Unfortunately for fans thrilled at the idea of seeing the UFC's lightweight champion step inside the squared circle for the second time - the first being a TKO loss in boxing to Floyd Mayweather back in August - that idea has been reduced to little more than a pipe dream.
Appearing on Good Day New York, the UFC president was asked about the chances his top drawing star would make an appearance for the sports entertainment juggernaut:
"It's not true. It's absolutely not true, I literally just texted Vince McMahon five minutes ago."
The hosts of the show were skeptical and pressed White further, which prompted him to reveal his messages with the WWE chairman. White sent McMahon a link regarding Conor working with WWE and Vince simply responded with "News to me." Wrestling's head honcho then followed that up with "It might be good someday but not now."
Nobody's buying that Vince wouldn't use McGregor tomorrow if the MMA fighter was available for the right price.
Obviously these two could be involved in some elaborate ruse and plans could already be in motion to have the 155-pound champ appear at WWE's marquee event. After all, the two organizations have cooperated before, with UFC allowing Ronda Rousey to appear at WrestleMania 31, then a year later WWE-contracted Brock Lesnar fought Mark Hunt at UFC 200.
UFC currently has more pressing issues to address than helping WWE draw eyes to their product. With McGregor not having fought inside an octagon since November 12th last year, drawing the ire of the stacked lightweight division who have a champion that won't defend his title, combined with the fact that the MMA promotion's last two pay-per-views, 215 and 216, reportedly did less than 100,000 buys each, the only thing Dana White should be focused on regarding his Irish superstar is how to get him back inside the cage as quickly as possible.
That being said, there won't be too many jaws hitting the floor in disbelief should Conor McGregor show up in New Orleans for WrestleMania 34. "The Notorious" has developed quite the knack for doing whatever the fook he wants.
Create Content and Get Paid
---