Daniel Bryan Returns On WWE SmackDown's 'Season Premiere'
What does WWE have lined up for Bryan first?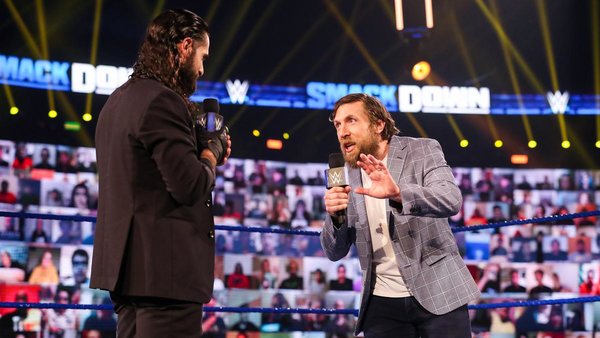 Daniel Bryan made his return to WWE on Friday's 'season premiere' episode of SmackDown.
The comeback king looked rather dapper in a new suit jacket, and seemed to be there to put over the blue brand's Draft picks. Of course, that wasn't his only gig for the night - WWE revealed their hand when Seth Rollins came out to confront Bryan and try to enlist him as a new disciple.
It didn't work. Obviously.
Dan also briefly teased a move to commentary before saying he was excited to be on Friday nights. He then ignored Seth's cries for help when the likes of Rey and Dominik Mysterio attacked the former 'Monday Night Messiah'.
This was either a one-off way to get Bryan on the show or the start of a longer, branching storyline. There are certainly worse long-term opponents for him than Seth Rollins. WWE could squeeze a ton of mileage out of an angle like this.
Would you like to see Bryan feud with Rollins? Or, would you rather see Daniel get right back in the hunt for the Intercontinental Title against Sami Zayn?
Create Content and Get Paid
---