Dean Ambrose Added To WWE Title Match At Payback
The advertised triple threat is now a Fatal 4-Way Match.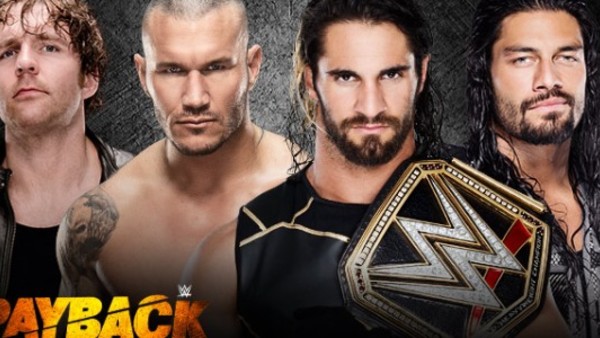 The WWE Title match at Payback was going to be Seth Rollins defending the gold against Roman Reigns and Randy Orton. However, WWE changed things up during Raw this week by adding Dean Ambrose to the mix, which means the main event of the May 17 Payback event will now be a Fatal 4-Way Match. The storyline explanation for the change was that Director of Operations Kane continued to have problems with his Authority buddy Seth Rollins, so he put the WWE Champion into a match with Ambrose. The two men faced off on Smackdown, but Kane got involved and Rollins got the win. This time Kane said Rollins had to do it on his own because his J&J Security team would be banned from ringside. Prior to the match beginning, Kane showed up on the stage and announced that if Ambrose won he would be added to the Payback match to make it a Fatal 4-Way. It was a great match between Ambrose and Rollins. The Montreal crowd absolutely loved it while those of us watching at home and talking about it on Twitter were raving about it as possibly the best match on WWE TV this year. J&J Security tried to interfere, it didn't work and Ambrose was able to win with a rollup. It drew a huge reaction. Rollins was upset about it, but there was nothing he could do. Later in the show, Kane said he set up the match to help Rollins look like more of a champion and that he would make it up to him. That win by Ambrose is a good sign for him. He's been lost in the shuffle in recent months. His win over Luke Harper at Extreme Rules was his first singles win in a PPV match, so it looks like WWE wanted to capitalize on that by giving him more momentum and putting him in a PPV main event. Raw ended with Ambrose standing tall while the other three men were down. It should be noted that next week's Raw is in Ambrose's hometown of Cincinnati, so they can capitalize on the storyline by booking him strong there too. This is the second time this year that WWE has changed a WWE Title match after announcing it on television. The Royal Rumble's WWE Title match was supposed to be Brock Lesnar defending the gold against John Cena, but they added Seth Rollins to the match. Why? Because they knew it would be a better match that way and they were right. The main event at WrestleMania 31 was Lesnar vs. Reigns and then Rollins was added to it at the end of it, so it's not exactly the same thing. What's also significant about the Payback match is it will be the first time that former Shield members Rollins, Reigns and Ambrose will be in a match where the first pinfall wins. They have been in tag matches together, most recently two weeks ago on Smackdown, but this is the first time they're in a match like this. We know that a Shield triple threat match down the road is a big deal and a potential WrestleMania main event style match. However, WWE doing this match at a minor PPV like Payback shows that they may not be willing to wait until WrestleMania to have that triple threat. For now at least it's a Fatal 4-Way Match. It would be a surprise if Rollins lost at Payback. As far as we know, the plan is for Rollins to defend the WWE Title against Brock Lesnar at SummerSlam. He's likely going to keep finding ways to retain the WWE Title up until that point. Putting him against his three biggest rivals stacks the deck against him, but it doesn't mean Rollins is going to lose.
Create Content and Get Paid
---