Did Jon Moxley Accept Bryan Danielson's Proposal On AEW Dynamite?
American Dragon offered opportunity to team up, wreak havoc and train young lions.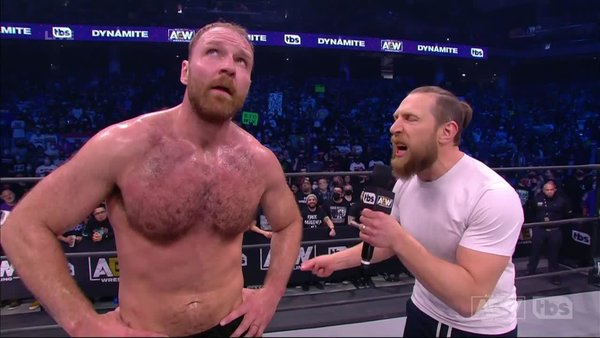 In a company where stables are in sufficient supply, the possibility that a new one could set the wrestling world on fire seems rare. But ever since Bryan Danielson approached Jon Moxley two weeks ago with an unusual proposal, fans' minds - and their theories - have been racing.
Danielson pitched to Moxley on AEW Dynamite on February 2 that the two should not be fighting against each other; they should be fighting alongside each other. He proposed a partnership with the two of them training young, up-and-coming wrestlers like Wheeler Yuta, Daniel Garcia and Lee Moriarty to build the next generation and "give back" to AEW.
Bryan didn't ask for an answer immediately. But on Wednesday, the American Dragon demanded an answer (after defeating Moriarty), and Moxley gave it to him: He wasn't saying "yes," but he wasn't saying "no."
Moxley said he listened to everything Danielson said two weeks earlier, and he had mulled it over. He couldn't think of a good reason not to do it. But he was left wondering whether Bryan proposed this union because he doesn't want to go to war against Mox, making it a merger of convenience. (Moxley also noted that he's never beaten the Dragon.)
That left us with an interesting impasse, with Moxley saying he doesn't partner with anyone he doesn't bleed with first. With Revolution around the corner, you've got to imagine this is heading toward a match between the two to settle whether Danielson means what he says or is trying to avoid a brutal battle.
If we get both a Danielson/Moxley PPV match and a stable headed by the two, it could be an epic few months for fans.
Create Content and Get Paid
---