Don Callis' AEW Dynamite Injury Sounds Absolutely DISGUSTING
A brutal new description of Don Callis' head wound from AEW Dynamite emerges...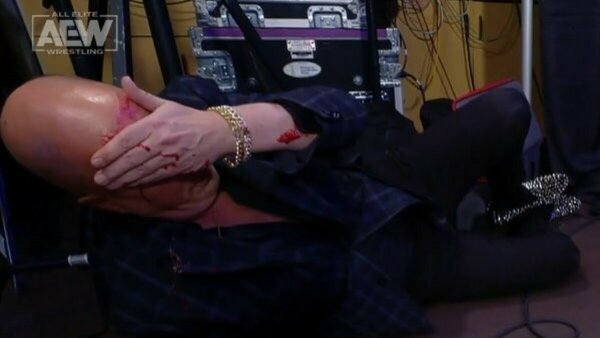 A new description of the injury suffered by Don Callis on this week's episode. of AEW Dynamite has emerged - and it sounds absolutely revolting.
Callis was left legitimately hurt during a Dynamite segment that saw him get punched out by Jon Moxley and the Blackpool Combat Club. Unfortunately, Don was reported to have hit his head while taking the fall, leaving him "dinged up."
Bryan Alvarez has since come through with a new account, stating, on Wrestling Observer Live, that the wound on Callis' forehead was so deep, his skull was visible:-
"In taking the bump, Don was unaware that there was a lighting rig right behind him. And he went head first into the lighting rig, and he got gashed open. It was described to me as looking like he was hit with a hatchet. Allegedly his doctor told him it was so deep you could see his skull. Bleeding everywhere. They took him to the hospital...he was there until 3 AM because it took them that long to put his head back together."
Aww jeezy peeps, man.
The good news? Alvarez also reported that Callis did not suffer a concussion during the accident. The bad? Everything quoted above.
There is currently no word on whether or not Callis will be forced to miss television time as a result of the injury. Don was bleeding profusely on Dynamite, prompting genuine shock from the announcers and live crowd.