Drew McIntyre Is STILL Chasing His WrestleMania Moment
First the pandemic spoiled McIntyre's WrestleMania moment, then along came Bobby Lashley...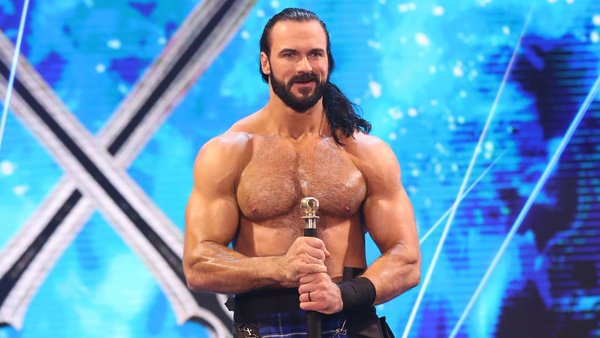 One of the most strongly pushed WWE wrestlers of the past few years he may be, but Drew McIntyre believes he is still chasing his big WrestleMania moment.
Speaking on The Rack Radio Show, McIntyre said that WrestleMania 36 was supposed to be his crowning glory, as he rose to the mountaintop by besting Brock Lesnar in Tampa, Florida - until the pandemic decided it had other ideas (h/t Wrestling Inc. for the transcription):-
"The big match is coming, not only is it going to be at WrestleMania, its gonna be Wrestlemania in my American hometown, where I have lived for years, in Tampa, Florida, 80,000 people, family and friends from Scotland are there, wife is gonna be there, they are all in the front row. Fans right behind me for the first time in my life in WWE. The reactions are at a fever pitch like I have never heard before, nothing could go wrong, then boom, pandemic."
McIntyre beat Lesnar that night, capturing his first WWE Championship. Rather than going down in Raymond James Stadium, however, it took place in an empty Performance Center, as COVID-19 forced American wrestling promotions into unpopulated buildings.
Fast-forward one year and Drew had another shot at a 'Mania moment, challenging for Bobby Lashley's WWE Title in front of 20,000 fans at WrestleMania 37. This didn't go to plan either:-
"To hear the shock I think when Lashley at the end as well when he put me out from his finishing move the Hurt Lock was pretty cool as well. I think everyone just expected Drew was going to win as well and have his moment with the fans this year. You know 'he's earned it, he's worked so hard, he's gonna get it and then it gets taken away and I think that's important for the Drew McIntyre character."
Thus, the Scot believes he is still waiting for his big moment:-
"I'm not Superman, I'm Batman and I have to be relatable. I am flawed as human, with all the ups and downs I have been through and I certainly haven't had it easy the entire time. Why should I have it easy at Wrestlemania? I have to keep overcoming it at the same time while making a top-level superstar in Bobby Lashley, we need as many top-level superstars as possible. To get that moment taken away, I'm still chasing that moment in front of the fans at Wrestlemania."
This week's WrestleMania Backlash pay-per-view sees McIntyre and Braun Strowman challenge Lashley in a WWE Championship Triple Threat. Drew's two WWE Title reigns lasted for a combined total of 310 days between March 2020 and February 2021.
Create Content and Get Paid
---