Drew McIntyre Reveals Scrapped WWE WrestleMania 38 Match
WWE couldn't go through with one proposed plan for Drew McIntyre at WrestleMania.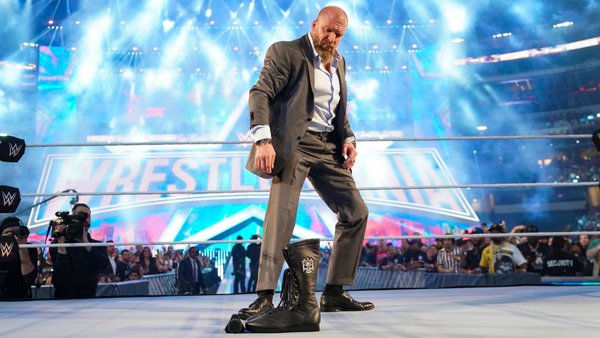 Drew McIntyre wanted to work with Triple H at this past April's WrestleMania 38.
The SmackDown star told talkSPORT that he's been pitching a bout vs. Triple H pretty much since he returned to the company in 2017. At one stage, WWE's creative team may have pencilled it in for 'Mania 38, but all bets were off when 'The Game' suffered a heart scare in December 2021.
That put Drew's hopes for a supershow clash with Trips to bed.
Hunter suffered viral pneumonia and was coughing up blood. Doctors were genuinely concerned for his life, so much so that Triple H has been forced to retire from the ring; he appeared at 'Mania 38 on the second night, albeit in a non-wrestling capacity.
Meanwhile, McIntyre wrestled Happy Corbin in a decent undercard effort on the Saturday.
Drew's 2017 comeback means WWE could've booked McIntyre vs. Triple H at 'Mania 34, 35, 36 or 37. The legend was done by the time 38's card was firmed up, and other plans got in the way for every other show. The stars didn't align quite the way big Drew wanted them to.