Duke Hudson Loses His Hair At WWE NXT WarGames 2021
Hudson lost his barnet after falling to Cameron Grimes in their hair vs. hair match.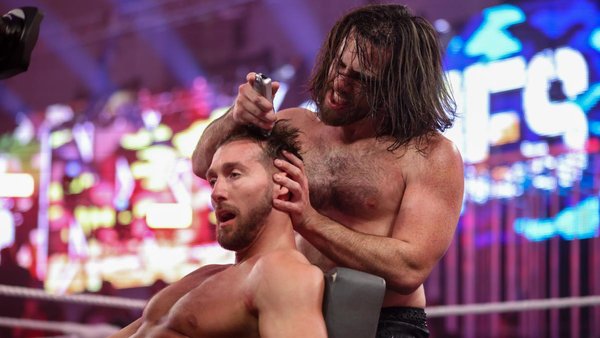 Duke Hudson entered last night's WWE NXT WarGames show with a full head of hair and left a partial skinhead.
Felled by Cameron Grimes in their hair vs. hair match, Hudson was knocked out via Cave In after the bell, allowing his rival to sit him down in the barber's chair and start the process of shaving him bald. Duke regained consciousness before Cameron could finish the job and fled up the ramp, though the damage was largely done. The poker player's lovely locks are mostly gone.
Grimes picked up the victory by rolling Hudson up with a handful of tights after countering out of a Hurricanrana.
The duo had been feuding for several weeks prior to last night's blow-off. The rivalry began when Grimes entered Duke's Poker Room, besting the so-called professional at his own game, leading to an in-ring card game that Cameron also won. Furious, Hudson beat Grimes down to close that segment, chopping off a lock of his hair in the process - hence last night's stipulation.
WWE's Grimes vs. Hudson go-home angle saw Duke present a slideshow of Cameron with different unflattering haircuts as a preview of what may happen at WarGames.