Eddie Edwards Interview: Changing IMPACT's Perception, Evolving His Character, The Wolves & More
The two-time Impact World Champion responds to rumors of a potential Wolves reunion eventually.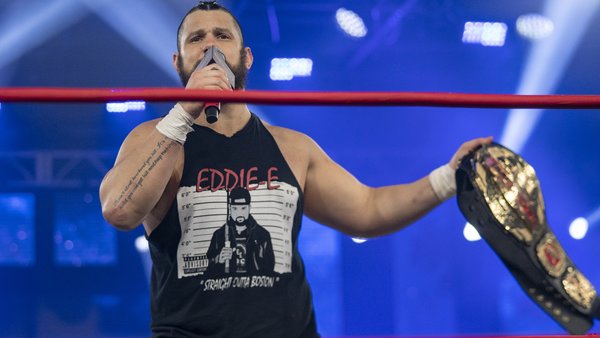 Few stars personify what the current incarnation of IMPACT Wrestling is all about better than Eddie Edwards.
The two-time Impact World champion has been with the promotion consistently since January 2014, making him the longest-tenured member of the roster right now. In that time, he's virtually done it all from dominating the tag team division with Davey Richards to holding the X-Division Championship to even winning the world title on two occasions.
He's been the ultimate flagbearer for IMPACT over the last seven years, sticking with the promotion through thick and thin and thriving in any given situation. His memorable feuds with Bobby Lashley, Richards, Moose and Sami Callihan helped put him on the map as a singles star and made him one of the biggest success stories in the company's near-20-year history.
In recent months, he's been embroiled in a heated rivalry with Eric Young and the rest of Violent By Design. He'll wage war with the faction alongside Willie Mack, James Storm and Chris Sabin this Sunday at IMPACT's Rebellion pay-per-view.
Ahead of the event, Edwards spoke with WhatCulture about becoming a locker room leader, the evolution of his character, favorite matches he's had, IMPACT's growth, a possible Wolves reunion, and more.
You've been in an IMPACT ring with James Storm, Chris Sabin and Eric Young at various points over the years, but you'll be sharing a ring with all three of them again on Sunday at Rebellion now that they've returned. Did you ever think that would be a possibility?
Edwards: It's pretty wild. Obviously, you look at this past year for IMPACT and for the world in general, we've had a lot of guys come back and other people go. We've had other guys come back again, so it's pretty cool to get in the ring with James Storm, an original, Chris Sabin, everything he's done, and Willie Mack, who is one of my best friends in wrestling. You go back a couple of years ago and tell us this is going to happen, I think you'd be crazy. It's a unique opportunity, but I'm looking forward to it, man. I really am.
Are you officially the longest-tenured wrestler on the roster who has been there consistently?
Edwards: I think so. It makes me feel old and grizzled, but I'm very proud of it. Obviously, I'm very proud of it. I think Rosemary is the next one in line after me, so we like to consider ourselves the current OGs of IMPACT, but I'm happy to be that guy in the locker room at this point.