Every WrestleMania 36 Match Ranked From Worst To Best
A wild and weird weekend of wrestling.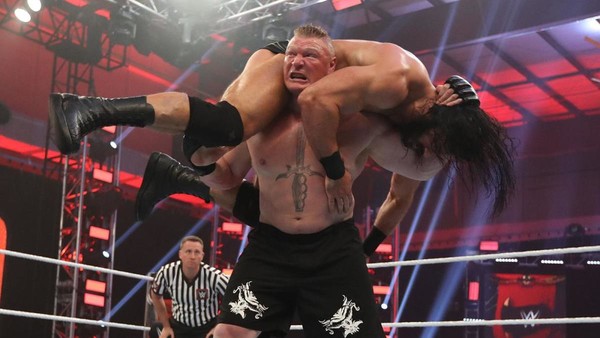 A month ago, who could ever have envisioned that WrestleMania 36 would play out quite like this?
This year's version of the annual wrestling extravaganza was unquestionably the strangest and most surreal 'Mania of all time: an inherently awkward, empty arena show that, to its credit, nevertheless served up a fairly entertaining, well-paced platter of 18 matches across two nights.
Was the show undeniably, unavoidably lacking in atmosphere? Absolutely, but it was far from the disastrous trainwreck many fans were expecting or even hoping for, delivering a number of rock solid matches, a handful of very good ones, and at least two envelope-pushing outings nobody will be forgetting any time soon.
Was it a WrestleMania for the ages? Absolutely not, and some of its most exciting moments were undeniably hampered by the empty arena, but given the tight spot WWE was put in, the end result was at least entertainingly weird even when it didn't all work.
Clearly, Night 1 was a hell of a lot more consistent than Night 2, but accepting the dumpster fire potential, WrestleMania 36 made for a (mostly) acceptable weekend of programming...
18. WWE Universal Title: Goldberg (c) Vs. Braun Strowman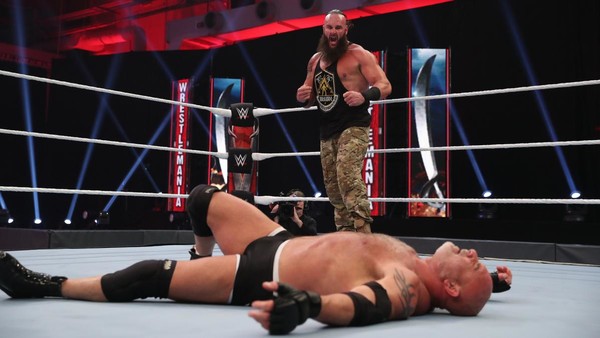 Result: Strowman finally puts Goldberg down after four Running Powerslams, winning the title (2:10).
Rating: What positive can really be said about this apart from WWE letting the right guy win?
Nobody was expecting a classic, but between the actual tedium of the match and Braun's non-existent build per the circumstances, it might be one of the most deflating and underwhelming major title wins in recent WWE history.
It was neat to see Braun finally climb the mountain he clearly should have several years ago, but like this? It was tough to care much, and at the end of the day, Braun's clearly just going to be a transitional champion anyway. 2/10