Every WWE Stable Ranked From Worst To Best
Who are WWE's most solid stable? Featuring The New Day, The Way, and more...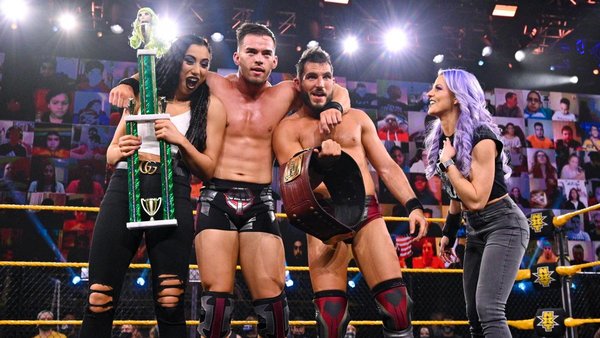 Even a brief browse at WWE's Hall of Fame reveals that belonging to a successful stable is a surefire way for a midcarder's legacy to live on and for the industry's biggest stars to be honoured multiple times.
Stables have further potential to sell huge quantities of merchandise, evidenced by the popularity of nWo and DX tees long after the peak of the team's initial run.
And yet, Vince McMahon is reportedly sour on factions and tag teams (which he groups together). Arn Anderson has previously disclosed practical reasons for this prejudice/preference:-
"Well when you started paying all those groups. When you would have the big shows and you would have a lot of those factions on there, man you had a lot of sets of trends. So, it went from being just a tag team to four guys, maybe five if there was a manager involved […] if you met all those transportation costs to pay and all that, I measure it just get expensive and it's probably overwhelming […]"
Compared to the competition, WWE are currently light on stables despite them having four separate rosters in Raw SmackDown, NXT, and NXT UK. However, those with memories of the company's 1997 Gang Wars will be able to see the benefits, begrudgingly agreeing with McMahon.
Let's rank them all!
9. Gallus
Members: Joe Coffey, Mark Coffey, Wolfgang
The trio of Scotsmen are a natural and authentic alliance. Gallus (Scottish slang for bold, confident, or flashy) work on a simple formula, which has united teams such as the APA and the Steiner Brothers, as a faction of tough as nails hardmen who will demolish anybody who makes themselves an obstacle.
Gallus' greatest achievement to date is Wolfgang and Mark Coffey's sprawling run with the NXT UK Tag Team Championships. The duo held onto the titles for 510 days. To put this into perspective, the longest runs with the Raw and SmackDown Tag Team Championships are 483 days (The New Day) and 182 days (The Usos) respectively.
Those operating behind the scenes for NXT UK clearly see potential in the bruisers and their union. However, at the time of writing Gallus have only competed in 28 recognised matches under the NXT UK banner, and only 9 of these encounters featured all three members. Having competed as a trio from late 2018 to the present day, Gallus' exposure has been rather limited - a large factor in their ranking being so limited.