Everything That Was Supposed To Happen At WrestleMania 36 (But Didn't)
Kevin Owens' Mania Spot should have been even bigger!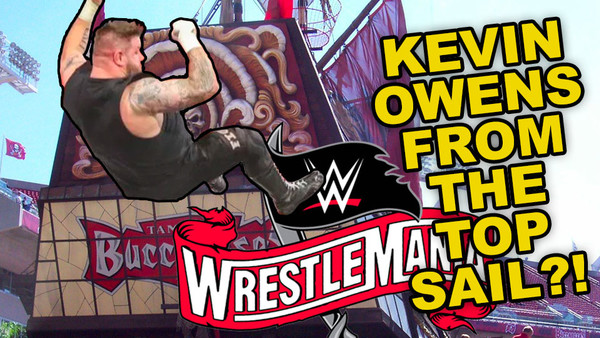 We all know the drill, so let's not dwell on the why and instead focus on the what.
Due to the current testing circumstances, many unique changes and modifications were bolted onto the side of this year's WrestleMania. Originally scheduled to be held at the Raymond James stadium in Tampa, Florida, holding well over 65,000, WrestleMania 36 saw some unforeseen consequences that changed almost every aspect of the usual sports entertainment spectacle.
However, being the adaptable titans of content that they are, the WWE agreed that the show must go on. Rolling with any punches that came along with the issues of the last few months, we got the most unique WrestleMania experience of all time.
No stadium? No problem. Split it into two nights? Easy. Keeping everyone healthy? That's the priority and it's safe to say the WWE made it work. The usual event it was not but what is usual these days, anyway. After our two night wrestling binge across the weekend, we're already wanting to take a look back.
This list will look at everything that was supposed to happen at WrestleMania 36 but didn't, for one reason or another.
18. The Abandoned Theme And The Stage Plans
Tampa's "Ray Jay" Stadium offered such a unique setting for WrestleMania that the company were leaning on the whole pirate theme as soon as the venue was announced. The fact that there's a giant Pirate Ship within the stadium makes it likely there would have been SOME allusion to pirates in the theme of Mania 36.
We're not saying it would have been a Pirate Battle Royale or anything like that, but you can't put on a show in that setting without tying into the biggest feature of the stadium. Just as you couldn't then use a pirate theme properly when it was moved to the Performance Centre.
Intriguingly, during NFL games, cannons are fired from the ship when the Tampa Bay Bucs scores. There is no chance on Earth they wouldn't have been used as part of the opening or other entrances.
Seating plans for the show linked to early ticket sales also revealed that the ship would actually have played part of the stage design.